"Total Forgiveness"
---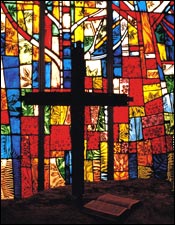 In Him we have redemption through His blood, the forgiveness of our trespasses, according to the riches of His grace, which He lavished upon us, in all wisdom and insight making known to us the mystery of His will, according to His purpose, which He set forth in Christ. Ephesians 1:7-9
The title of the Reuters article was "IRS Widens Taxpayer Debt Forgiveness Program."

It was the kind of article that stopped me cold in my tracks. I began reading this story with enthusiasm. I finished reading the article with that enthusiasm somewhat blunted.

Now make no mistake about it, the program will help a lot of people who have been hammered by a tough economy. That being said, I have to go on record as saying the Savior and the IRS have two different definitions of forgiveness.

• For example, you have to apply to enter the IRS program, while Jesus extends His blood-bought forgiveness to everyone.

• In the IRS program only a percentage of your debt is forgiven. In contrast, Jesus forgives all our debts ... even as we forgive our debtors.

• In the IRS program you have to make a commitment you will pay your taxes for the next five years. Jesus has no such riders. His forgiveness is complete, and it is lifelong.

• The IRS is going to wave its magic wands (or something like that) and the money owed is just going to go away. Jesus did not take that easy route. Instead, He paid the price for our sins. On the cross He paid the price for every, single one.

As I look at the two programs, I am grateful for the one, but I stand in awe of the second.

The idea that the Son of God will humble Himself and sacrifice His life to pay off the debts that my disobedience has earned is beyond comprehension or imagination.

It is a debt I can never repay. Thank the Lord. Because of the completeness of Jesus' work, I don't have to.

THE PRAYER: Dear Lord Jesus, You have forgiven me; by Your life, death and resurrection, You have forgiven me. Now, because of You, I am completely forgiven of my wrongdoings and adopted into the family of faith. May I live as one of Your family. In Your Name. Amen.

In Christ I remain His servant and yours,

Today's Bible Readings: Psalms 109-110,138 John 16
To Download Devotion MP3 to your computer, right click here and select "Save Link As" or "Save Target As" or "Download Linked File As"