"Too Much"
---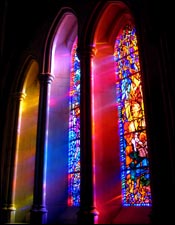 There is nothing better for a person than that he should eat and drink and find enjoyment in his toil. This also, I saw, is from the hand of God, for apart from Him who can eat or who can have enjoyment? Ecclesiastes 2:24-25
You heard what the book of Ecclesiastes said: Nothing in life compares with eating and drinking and finding enjoyment in work. These things, good things, are all gifts from God. Of course, they are gifts that can be abused.

For example, how did you do watching the recent Super Bowl? If you are reading or listening to this devotion, you are one of the survivors. I offer you my congratulations.

Now you may be wondering, "Just what is it I have survived?" Easy. You survived the Super Bowl.

Silly? Not really. Right before the game New York doctors urged the faithful fans of the Giants to take their medication and get plenty of sleep before the big game. (Nothing was said about the fans of the other team.)

Confused? Let me get specific: The doctors believed the Super Bowl could be a health hazard. They came to this conclusion after they heard that in Munich, when Germany's soccer team was playing for the World Cup, heart attacks and cardiac emergencies doubled for everyone and tripled for men.

In a study which came out in "The New England Journal of Medicine", doctors blamed emotional stress for the heart problems—stress compounded by lack of sleep, overeating, scarfing down junk food, consuming great quantities of liquor, and smoking.

So, they wanted you to take care of yourself.

God agrees. Now I know the words, "everything in moderation" are not found in the Bible. Even so, the Lord wants you to take care of yourself—even during the Super Bowl.

Our Lord above has given us many good gifts, the most important of which is salvation through His Son's sacrifice. All of God's gracious gifts have been designed to be a blessing. Indeed they are a blessing, unless we abuse them or misuse them.

So, congratulations on having survived another Super Bowl and good luck with Valentine's Day, the Fourth of July, Thanksgiving, and next Christmas. Appreciate what God has done for you and use the gifts He has given wisely and well.

THE PRAYER: Heavenly Father, for all of the gifts of life, including the simple ones, I offer my appreciation. May I always recognize that every good gift comes from You. Then, having acknowledged Your giving, may I share Your grace with others. In the Name of Jesus, Your greatest gift. Amen.


In Christ I remain His servant and yours,

Today's Bible Readings: Exodus 16-18 Matthew 27:1-26
To Download Devotion MP3 to your computer, right click here and select "Save Link As" or "Save Target As" or "Download Linked File As"