"His Ugly Beauty"
---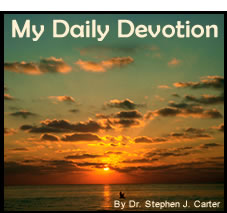 His appearance was so disfigured beyond that of any man and His form marred beyond human likeness. Isaiah 52:14
Yesterday we described the world's fascination with outward beauty. "Dress for success," we are told. A political candidate's television image rates as all-important for a winning campaign. By the same token, society shudders at ugliness. We often try to hide the sick and handicapped behind the walls of institutions.

But God reverses the process. In Isaiah, God describes the Suffering Servant as physically ugly: "He had no beauty or majesty to attract us to Him, nothing in His appearance that we should desire Him" (Isaiah 53:2). Jesus Christ, the beautiful and all-powerful Son of God from eternity, became a true human being at Bethlehem. Though a king, He chose to serve by suffering. "He was despised and rejected by men" (Isaiah 53:3). Arrested, tried, and convicted, He was nailed to a cross, the most despised death available. From a human standpoint His birth, life, suffering, and death were ugly.

Yet God saw beauty in His ugliness. He came for us, for a world trapped in the ugliness of sin. "He took up our infirmities and carried our sorrows…But He was pierced for our transgressions, He was crushed for our iniquities: the punishment that brought us peace was upon Him, and by His wounds we are healed": (Isaiah 53:4, 5). God says, "I will give Him a portion among the great…because He poured out His life unto death" (Isaiah 53:12). God raised Jesus Christ from the grave to His right hand. Unsurpassed beauty.

We look at Him amazed. Ugly beauty. We bow in humble adoration before His nail-pierced hands and crown of thorns. We rejoice in His ugly beauty.

PRAYER: Thank You, Lord Jesus, for taking upon Yourself the ugliness of sin for me. Your are my beautiful Savior. Amen.

(Devotions from "My Daily Devotion" by Dr. Stephen J. Carter, copyright 1988, CPH. All Rights Reserved. No part of this publication may be printed, reproduced, stored in a retrieval system, or transmitted, in any form or by any means, electronic, mechanical, photocopying, recording or otherwise, without prior written permission of Concordia Publishing House. For ordering information, please contact CPH at 800-325-3040 or visit www.cph.org.)


Today's Bible Readings: Genesis 43-45 Matthew 22:23-46
To Download Devotion MP3 to your computer, right click here and select "Save Link As" or "Save Target As" or "Download Linked File As"