Better Together
How Christians Can Be a Welcome Influence in Their Neighborhoods
While public opinions about the Church at large are mixed, feelings toward individual Christians are often much warmer. Redeeming the Church's broader reputation may need to involve recommitting to its personal presence.
Barna Group undertook this study to learn more about the types of people who are taking initiative in their communities—who gather, donate, serve, create, teach, mobilize and innovate, alongside other passionate neighbors, to meet needs around them. Better Together, the latest report in an ongoing research partnership with Lutheran Hour Ministries, seeks to understand Christians who love their neighborhoods of their own volition, even outside of professional obligation or the formal structure of ministry programs. Join us in learning from—and following the lead of—an exemplary minority of organized, altruistic individuals who have contributed to outward-focused action in their communities.

Alongside new research and data visualizations, Better Together includes:

Profiles of different types of people who participate in volunteer groups and what drives them toward compassion and collaboration
Details about how healthy groups form, communicate and grow
Insights about how churches can step up (or step aside) to empower laity and benefit communities
Interviews with Gabe Lyons, Makoto Fujimura, Becca Stevens and a panel of faith and nonprofit leaders from across the U.S.

This report is intended to help churches understand the impact and inner workings of groups of good neighbors, and to help leaders develop a vision for how these members might complement their ministry goals.
---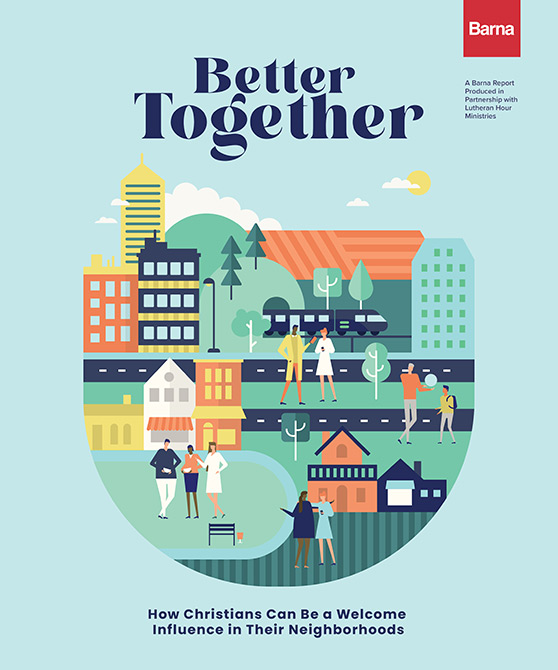 Better Together Monograph
How Christians Can Be a Welcome Influence in Their Neighborhoods
Better Together, the third in a series of studies produced in partnership with Barna Group, seeks to understand Christians who love their neighbors and their neighborhoods and want to make a difference right where they live. It's challenging work, but the results can be life changing — because in life and in ministry, we really are better together.
---
The Hopeful Neighborhood
What Happens When Christians Pursue the Common Good
Are you tired of hearing people dismiss the church as an irrelevant relic? (Do you secretly wonder if they are right?) In his latest book titled The Hopeful Neighborhood, LHM's Content Manager Don Everts explores an exciting reality that is revealed in Scripture, shown throughout history, and confirmed with the latest research from Barna Group and Lutheran Hour Ministries: when Christians pursue the common good of the neighborhood, the world stands up and notices. This book is filled with constructive, practical ways that Christians and churches bless those around them.
---
Lutheran Hour Ministries (LHM) has partnered with Barna Group—an industry leader for research-based insights about faith and culture, leadership and vocation, and generational groups—on a critical three-year study of faith in America. This bold collaboration will allow LHM to create resources and online courses that address the needs of both the churched and non-churched.
Back to top ^