"Glory Be to Jesus"
---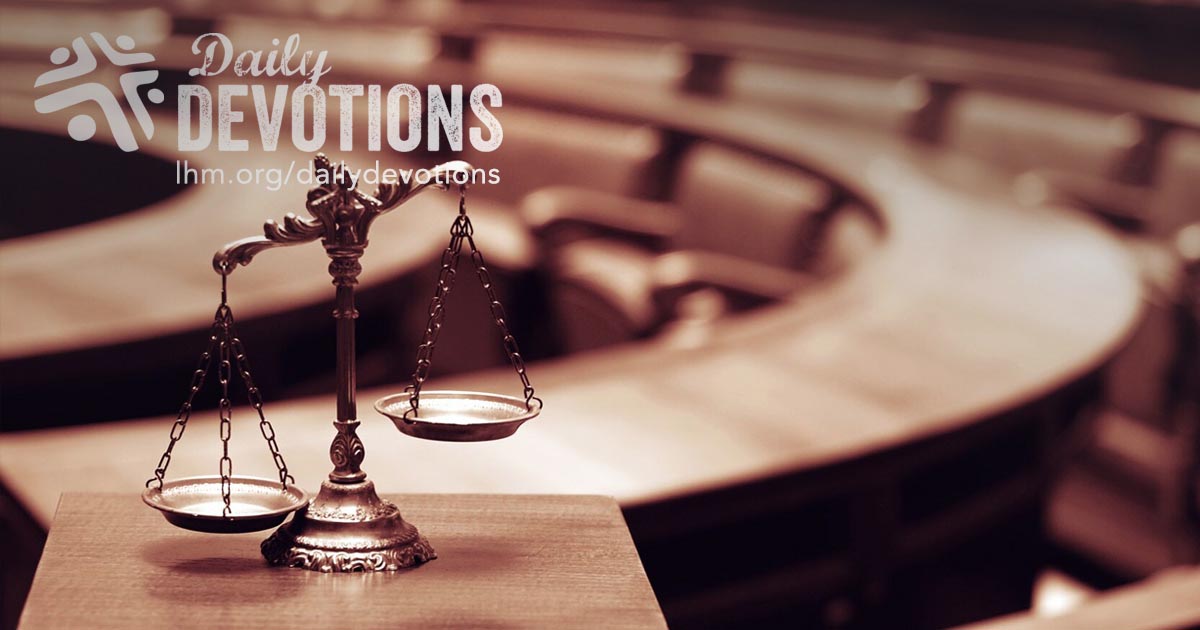 "Glory be to Jesus, who in bitter pains, Poured for me the lifeblood from His sacred veins!

"Abel's blood for vengeance pleaded to the skies; But the blood of Jesus for our pardon cries."

Much of the violence around us has its roots in revenge. It is the way of the fallen world to seek vengeance for real or imagined wrongs. The desire for revenge does not always lead to bloodshed. In less deadly but still harmful ways, we trade hate for hate and insult for insult in our own personal versions of an "eye for an eye." We believe that somehow vengeance will right the wrongs committed against us, although we are not so pleased if others seek revenge for our sins against them. We easily forget God's Word for us, "Beloved, never avenge yourselves, but leave it to the wrath of God, for it is written, 'Vengeance is Mine, I will repay, says the Lord'" (Romans 12:19).

The penalty for sin, for our unforgiving desires, was first decreed in Eden: "Of the tree of the knowledge of good and evil you shall not eat, for in the day that you eat of it you shall surely die" (Genesis 2:17). Adam and Eve did not heed the warning and disobeyed God's command, eating the forbidden fruit. Following in the rebellious footsteps of his parents, Cain killed his brother Abel because God accepted Abel's sacrifice but not his own. God confronted Cain, saying, "What have you done? The voice of your brother's blood is crying to Me from the ground" (Genesis 4:10b).

The blood of Abel may have "pleaded to the skies" for vengeance, but the blood of Jesus our Savior "speaks a better word than the blood of Abel" (Hebrews 12:24b). The lifeblood that poured from "His sacred veins" and soaked the ground at the foot of the cross did not cry for vengeance. Jesus' blood pleads for pardon for our sins. It is the blood of the new covenant of forgiveness, as Jesus said when He gave us His Holy Supper: "This cup that is poured out for you is the new covenant in My blood" (Luke 22:20b). It is the new covenant foretold by the prophet Jeremiah: "Behold, the days are coming, declares the LORD, when I will make a new covenant with the house of Israel and the house of Judah ... I will forgive their iniquity, and I will remember their sin no more" (Jeremiah 31:31, 34b).

God could have decreed vengeance for our sins, but instead His just wrath against sin was satisfied by the sacrifice of His Son, our Lord Jesus Christ. For the sake of Jesus, God remembers our sin no more and, in the Lord's Supper, gives us the gift of Jesus' body and blood, given and shed for the forgiveness of our sins. With awe and thanksgiving, we receive Jesus' body and His blood, the blood that eternally "for our pardon cries."

WE PRAY: Lord Jesus, teach me to walk in love and to forgive as I have been forgiven. Amen.

This Daily Devotion was written by Dr. Carol Geisler. It is based on the hymn, "Glory Be to Jesus," which is number 433 in the Lutheran Service Book.

Reflection Questions:

1. Why does seeking revenge seem so natural a thing to do when we are wronged?

2. What example did Jesus give when He was mistreated by others?

3. What are some things you can do to turn your vengeful anger over to the Lord?

Today's Bible Readings: 2 Chronicles 7-9 2 Corinthians 2
To Download Devotion MP3 to your computer, right click here and select "Save Link As" or "Save Target As" or "Download Linked File As"