"May We Thy Precepts, Lord, Fulfill"
---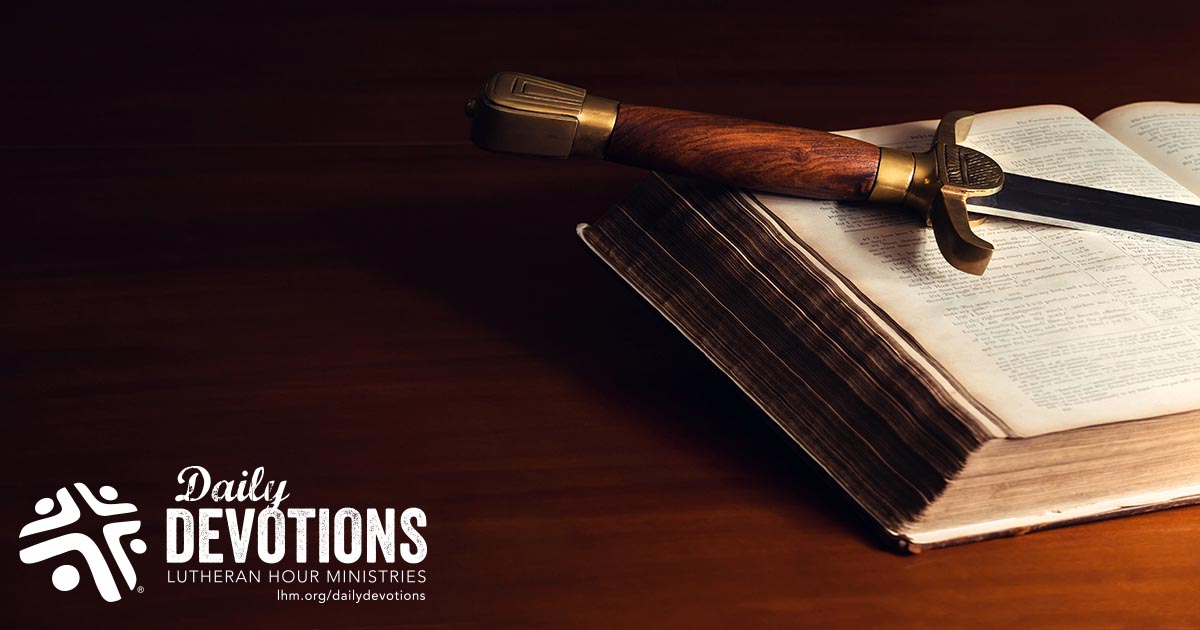 "May we Thy precepts, Lord, fulfill And do on earth our Father's will As angels do above; Still walk in Christ, the living way, With all Thy children and obey the law of Christian love.

"So may we join Thy name to bless, Thy grace adore, Thy pow'r confess, From sin and strife to flee. One is our calling, one our name, The end of all our hopes the same, A crown of life with Thee."

We may not even be aware of all of the national, state, and local laws that touch nearly every aspect of our lives. New laws are added all the time, and we may not hear about those either, but we know God's Law because it is written on our hearts. The written expression of God's Law is found in the Ten Commandments. These commands guide our relationships with God and with one another.

In our hymn we pray that we might fulfill our Lord's precepts, or commands, especially "the law of Christian love." This new law of love was not issued by any earthly governing body or given at Mount Sinai. It was given by our Lord Jesus on the night before He died on the cross. As a humble servant, the Master washed His disciples' feet. He spoke to them of the glory to come through His death and resurrection. Then Jesus said, "A new commandment I give to you, that you love one another: just as I have loved you, you also are to love one another" (John 13:34). Jesus Himself obeyed this new commandment fully and faithfully, as He did all of His Father's commands. On that same night, Jesus said, "Greater love has no one than this, that someone lay down his life for his friends" (John 15:13). That is what the Savior did as He took up His cross for the sake of our salvation. Innocent of all sin in Himself, Jesus suffered and died for our sins.

Jesus told His disciples, "I have called you friends, for all that I have heard from My Father I have made known to you. You did not choose Me, but I chose you and appointed you that you should go and bear fruit" (John 15:15b-16). As we live according to the Lord's precepts and do our Father's will on earth "as angels do above," we bear fruit to the glory of God. Following Jesus' new command—"the law of Christian love"—we seek to love one another as He loved us. Jesus' love is a self-sacrificing love that gives and expects nothing in return. It is love that leads us to "walk in Christ, the living way." It is love revealed in the life, death, and resurrection of Jesus, who laid down His life for us, sinners He names as His friends.

WE PRAY: Lord Jesus, help me by the power of the Holy Spirit to love others as You love me. Amen.

This Daily Devotion was written by Dr. Carol Geisler. It is based on the hymn "May We Thy Precepts, Lord, Fulfill," which is number 698 in the Lutheran Service Book.

Reflection Questions:

1. How do laws impact the way citizens relate to each other?

2. What did Jesus mean when He gave us a "new commandment"? How is it different than those God gave mankind on Mount Sinai?

3. How do we love others as Jesus loved us?

Today's Bible Readings: Psalms 89, 92 Psalm 91 Philippians 3
To Download Devotion MP3 to your computer, right click here and select "Save Link As" or "Save Target As" or "Download Linked File As"