---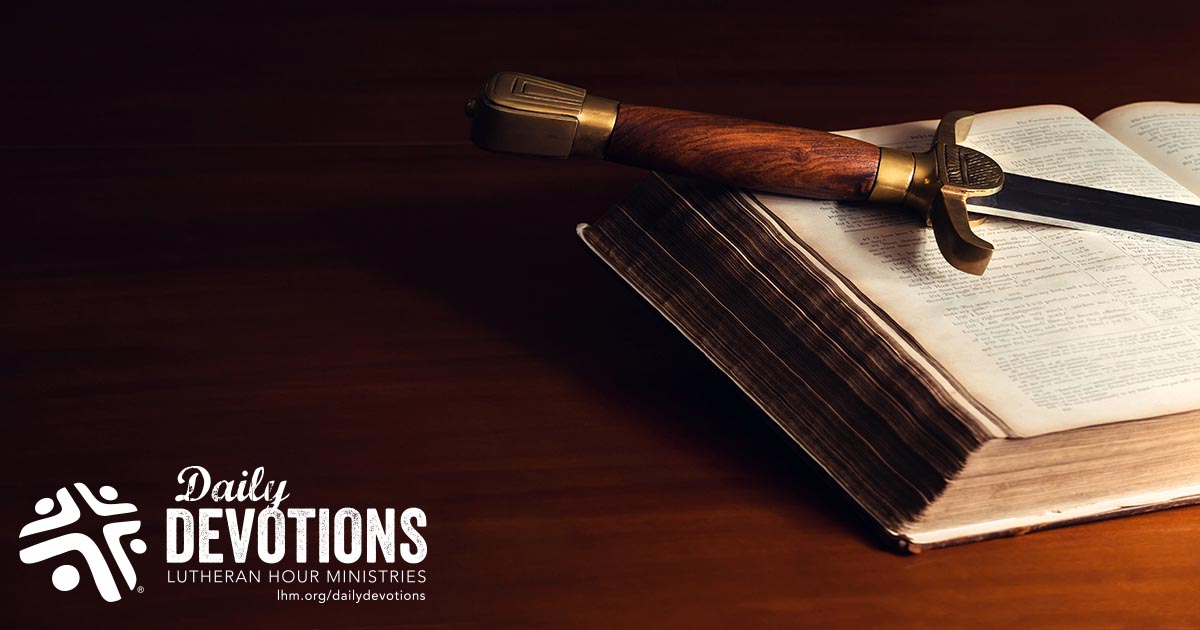 Genesis 4:7 - (The Lord said) "If you do well, will you not be accepted? And if you do not do well, sin is crouching at the door. Its desire is contrary to you, but you must rule over it."
Here God speaks powerfully to Adam and Eve's oldest son, Cain. These words are especially relevant for those who seek to live free of sin and the fear of death. And today—just like Cain, the devil is crouching at our door, using whatever snare possible to destroy us eternally!

In Scripture God gives additional warnings concerning sin and the devil's intent. In Proverbs we read, "My son, if sinners entice you, do not consent" (Proverbs 1:10), and "Do not enter the path of the wicked and do not proceed in the way of evil" (Proverbs 4:14). The apostle Paul tells us to "give no opportunity to the devil" (Ephesians 4:27). He also writes, "Put on the full armor of God so that you may be able to stand firm against the schemes of the devil" (Ephesians 6:11).

One man who had a clear awareness of the devil was the reformer Martin Luther. He also knew the only truly effective weapon against the power of evil is God's living and life-giving Word. In the preface to his Large Catechism, Martin Luther writes, "Nothing is so effectual against the devil, the world, and the flesh, and all evil thoughts than when one occupies one's self with the Word of God."

"For this reason alone," Luther writes, "you should eagerly read, recite, ponder, and practice the Catechism, even if the only blessings and benefit you obtain from it is to drive away the devil and evil thoughts. For the devil cannot bear to hear God's Word." Long before Luther, Paul spoke of the might of God's Word for all people: "For I am not ashamed of the Gospel, for it is the power of God for salvation to everyone who believes, to the Jew first and also to the Greek," (Romans 1:16).

As you abide in God's living Word, there is power to combat the devil and your sinful appetites. While you will experience temptations in life, you can overcome these impulses. With Jesus Christ living in you, by God's gift of faith, the devil can no longer control you. In every generation God has always protected His children, and He does the same today.

O friends, let God be the gatekeeper of your heart. Let His Word greet you in the morning and close out your day. God is your Stronghold in the battle against sin, and the sure Cornerstone on which you stand. In your struggle against the devil and the world, He is always there for you. Paul writes, "No temptation has overtaken you that is not common to man. God is faithful, and He will not let you be tempted beyond your ability, but with the temptation He will also provide the way of escape, that you may be able to endure it" (1 Corinthians 1:13).

Jesus' resurrection victory over Satan is power sufficient for anything we face, including our worst sins and temptations. Go to Him for strength in the fight.

THE PRAYER: Heavenly Father, keep us in Your Word, always. In Jesus' Name. Amen.

Taken from "The Devil's Latest Snare," a sermon by Dr. Wallace Schulz, former Speaker of The Lutheran Hour

Reflection Questions:

1. How do you steer clear of problem areas in your life? Any strategies to share?

2. Does the phrase of sin "crouching at the door" seem real to you? If not, how else might you describe such a thing?

3. Do you use Luther's Large Catechism or some other Bible aid to help with your spiritual life?

Today's Bible Readings: Isaiah 56-58 Romans 11:1-18
To Download Devotion MP3 to your computer, right click here and select "Save Link As" or "Save Target As" or "Download Linked File As"