"Safe in the Midst of Trouble"
---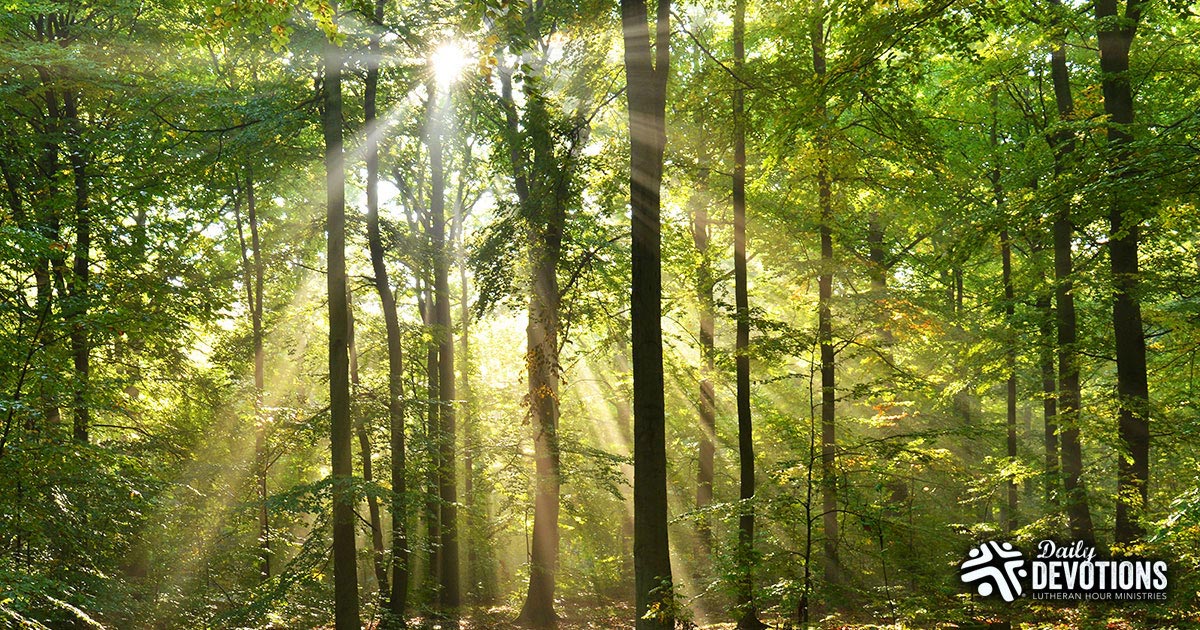 Psalm 138:7-8 - Though I walk in the midst of trouble, You preserve my life; You stretch out Your hand against the wrath of my enemies, and Your right hand delivers me. The LORD will fulfill His purpose for me; Your steadfast love, O LORD, endures forever. Do not forsake the work of Your hands.
In some animated films the main character must walk through a deep, frightening forest—at night, of course, and often in winter. The trunks of the trees are carved with fierce-looking faces and branches reach out with long, twiggy fingers in an attempt to grab the terrified traveler (who fortunately will escape the danger).

Like David the psalmist, we "walk in the midst of trouble," but we don't contend with imaginary, animated trees. Our troubles are real. Our journey may lead through illness, family troubles, the loss of a home or employment, financial worries or grief and loss. David faced the wrath of unnamed enemies, just as the terrifying enemies of fear and doubt, sin and death reach out for us. But the psalmist offers up his praise. God preserved his life, stretching out a strong right hand to deliver him from his foes. In the same way, God reaches down to preserve us in the midst of trouble. We can trust Him because His strong right hand has already delivered us from sin and death.

David confidently proclaims, "The LORD will fulfill His purpose for me." The apostle Paul assures us that the Lord fulfilled His purpose for Israel's shepherd-king, saying, "For David, after he had served the purpose of God in his own generation, fell asleep and was laid with his fathers" (Acts 13:36a). When God accomplished His purposes through David, Israel's great king fell asleep in death. David's greater Son, our Lord Jesus, came to fulfill the Father's purpose, to offer Himself as the sacrifice for the sins of the world. As the cross grew near, Jesus said, "Now is My soul troubled. And what shall I say? 'Father, save Me from this hour'? But for this purpose I have come to this hour" (John 12:27).

We were "in the midst of trouble," trouble so deep that we could not escape by our own efforts. Yet "while we were still sinners, Christ died for us" (Romans 5:8b). Jesus delivered us from sin, death, and the devil. Stretched out, His hands and feet nailed to the rough wood of the cross, Jesus suffered and died, enduring the penalty of death for our sins. He was raised from death on the first Easter morning, exalted to reign at God's right hand. Through Baptism, we are united with Jesus, buried and raised with Him. Each of us is, in Christ, a new creation, the work of God's hands, "created in Christ Jesus for good works" (Ephesians 2:10b).

With the psalmist, we praise the steadfast love of God that endures forever. We know that He will never forsake the work of His hands, those nailed-scarred hands that stretched out to save us. The animated movie character usually passes safely through the grasping branches of the scary forest to "live happily ever after." We have the promise of a better ending, an ending David knew: "Surely goodness and mercy shall follow me all the days of my life, and I shall dwell in the house of the LORD forever" (Psalm 23:6).

THE PRAYER: Heavenly Father, walk with us through every earthly trouble and keep us safe in Your care, now and forever. In Jesus' Name. Amen.

This Daily Devotion was written by Dr. Carol Geisler.

Reflection Questions:

1. When do you sense your life has its greatest purpose?

2. Have you experienced a time when God stretched out His hand against your enemies? When was that?

3. What are some fears you have? Does God help you in those?

Today's Bible Readings: Psalms 45-47 1 Corinthians 10:19-33
To Download Devotion MP3 to your computer, right click here and select "Save Link As" or "Save Target As" or "Download Linked File As"