"Fearing the Right Things"
---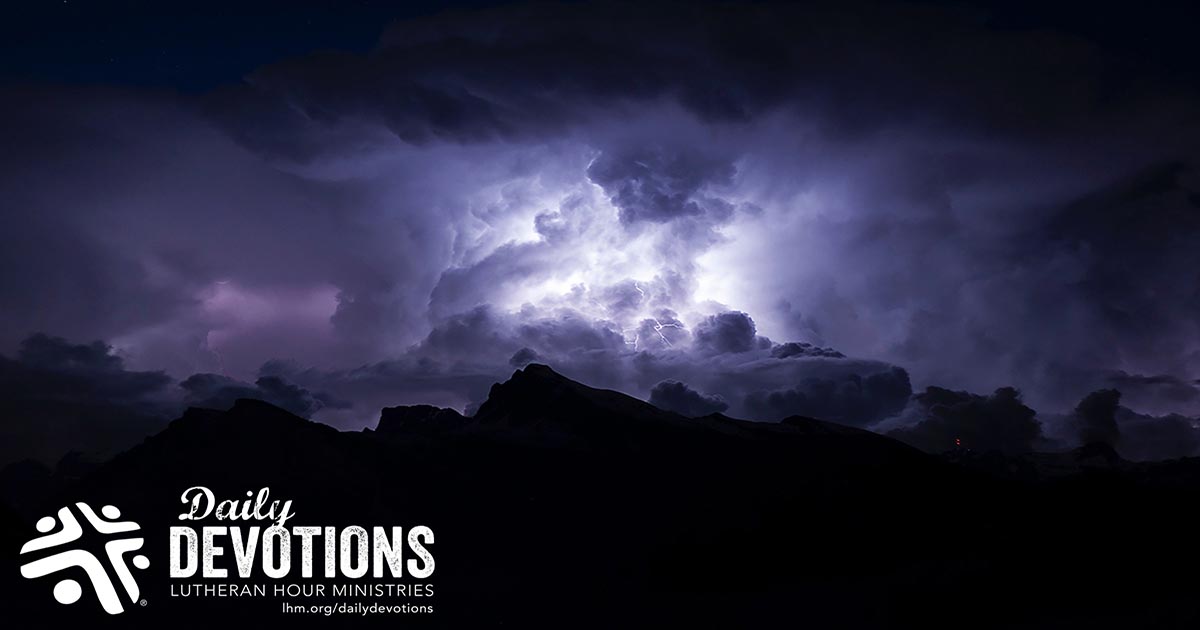 Revelation 14:6-7 - Then I saw another angel flying directly overhead, with an eternal gospel to proclaim to those who dwell on earth, to every nation and tribe and language and people. And he said with a loud voice, "Fear God and give Him glory, because the hour of His judgment has come, and worship Him who made heaven and earth, the sea and the springs of water."
I hate nightmares, don't you? I think I hate them most because nothing is what it seems. Outlines vanish into the shadows. You think you're dealing with one situation, and suddenly it morphs into something else. It's like holding a handful of fog—and it sends my anxiety right through the roof.

When I wake after a dream like that, it's pure heaven. Here is the bed, oh blessed lumpy rectangle. There is the door, and here is the alarm clock, and while that may be a horror in itself, at least it's a dependable horror, and will never strike thirteen on me. Now that I am awake, I am seeing clearly, and I can be happy and comfortable again. The fear is gone.

The angel in this passage from Revelation says something about fear. He says, "Fear God and give Him glory ... worship Him who made heaven and earth." That doesn't sound very comforting, does it? But actually it is. The angel is talking to a world full of people who have been terrorized and persecuted by evil powers. They are basically afraid of everybody and everything!

What they don't know is the right Person to fear: the God who has all power but will never, ever misuse it, the One who is perfectly holy but nevertheless "who is slow to anger, and abounding in steadfast love and faithfulness" (Exodus 34:6b). It is only fitting to treat Someone so powerful with the utmost respect and awe, and to tremble at His Word (see Isaiah 66:2). But this is not the kind of fear we feel for cruel or abusive people, or for the dreadful terrors the devil sends into our lives. Instead, this is the respectful, loving fear of a child for a parent he looks up to—one he trusts with all his heart.

When the Holy Spirit plants that kind of good fear and awe in our hearts, we can get free from the fear of evil people and powers. We may still suffer, but their emotional power over us is gone.

The psalmist describes it this way: "Out of my distress I called on the LORD; the LORD answered me and set me free. The LORD is on my side; I will not fear. What can man do to me? The LORD is on my side as my helper; I shall look in triumph on those who hate me. ... I was pushed hard, so that I was falling, but the LORD helped me. The LORD is my strength and my song; He has become my salvation ... I shall not die, but I shall live, and recount the deeds of the LORD ... I thank You that You have answered me and have become my salvation" (Psalm 118:5-7, 13-14, 17, 21).

Conquering the world, Jesus saves us through His shed blood, death, and resurrection. Everyone who trusts in Him will be saved, and free, forever.

THE PRAYER: Dear Lord Jesus, help me trust You when I am afraid. Amen.

This Daily Devotion was written by Dr. Kari Vo.

Reflection Questions:

1. When was the last time you were afraid?

2. What do you do when you are afraid in order to feel better?

3. How does God help you against your fears?

Today's Bible Readings: Jeremiah 9-10 Colossians 1
To Download Devotion MP3 to your computer, right click here and select "Save Link As" or "Save Target As" or "Download Linked File As"