"Ghoulies and Ghosties"
December 1, 2017
Listen to Audio Email to a FriendPrint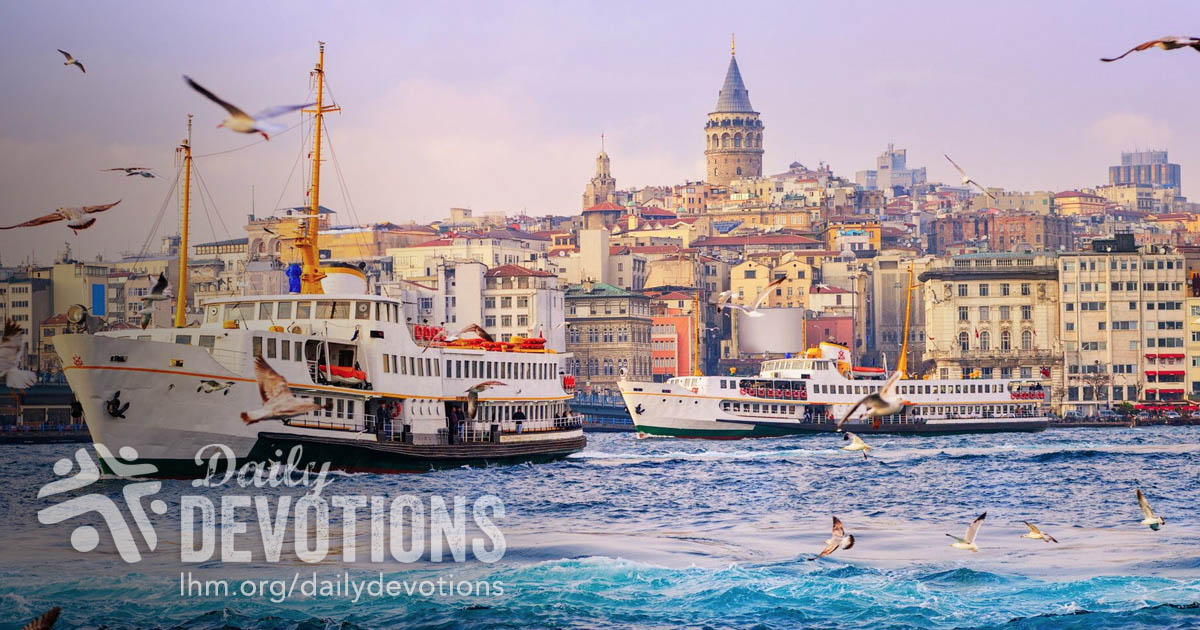 Ephesians 6:12-14 - For we do not wrestle against flesh and blood, but against the rulers, against the authorities, against the cosmic powers over this present darkness, against the spiritual forces of evil in the heavenly realms. Therefore take up the whole armor of God, that you may be able to withstand in the evil day, and having done all, to stand firm. Stand therefore, having fastened on the belt of truth, and having put on the breastplate of righteousness.
Depending on what historian you believe, it was the Scots, or the Welsh, who came up with a prayer which reads: "From ghoulies and ghosties, and long-leggedy beasties, and things that go bump in the night, Good Lord, deliver us!" Now the odds are that the person who first wrote that prayer had never seen any ghoulies or ghosties. Nor is it likely that he or she had had any encounters with long-leggedy beasties.

Still, that prayer has survived. It comes down to us partly because of its quaint language but also because it touches something deep down inside all of us: the fear of the unknown and the things which we cannot control.

When European explorers set out across the sea, that might well have been their prayer.

With only the most rudimentary of navigational tools and maps based on guesswork rather than fact, the unknown was a constant terror. Would they sail to the end of the earth and fall off into a bottomless abyss? Who could tell! When these explorers returned, mapmakers poured over their ships' logs and began to fill in the great unknowns across the sea. Eventually, major rivers, islands, navigable ports were shown. But there was still great expanses of ocean that had not been seen. There were still locations where all that was known was the unknown. In such places the mapmakers, the cartographers, with trembling hands wrote: "Here there may be dragons."

They weren't sure, so they imagined the worst.

It's not so different today. A recent poll taken in Great Britain has come up with a number of surprising statistics. For example, 64 percent of British adults admit they are still afraid of the dark. Nearly two-thirds of the nation disliked putting the lights out when they went to bed, and 36 percent regularly feel someone or something is in the room with them.

As many as 20 percent regularly check under the bed for lurking monsters; 17 percent sleep with a light on most nights of the week, and 25 percent believe they have seen a mysterious shadow in their bedroom.

If this poll is to be believed, it would appear that there are a lot of people who can, with their ancestors, honestly pray, "From ghoulies and ghosties, and long-leggedy beasties, and things that go bump in the night, Good Lord, deliver us!"

Now the Bible is silent concerning ghoulies and the others that prayer mentions. But that doesn't mean Scripture does not address the unseen spiritual realms. St. Paul spoke by inspiration when he wrote that we fight "against the rulers, against the authorities, against the cosmic powers over this present darkness, against the spiritual forces of evil in the heavenly places."

These things, according to Paul, were very real. And so they are. But equally real is the power of the Lord who sent His Son into this world as the sacrifice who could rescue us from these forces of darkness. Comforted and strengthened by the power of God, Paul also wrote, "No, in all these things we are more than conquerors through Him who loved us. For I am sure that neither death nor life, nor angels nor rulers, nor things present nor things to come, nor powers, nor height nor depth, nor anything else in all creation, will be able to separate us from the love of God in Christ Jesus our Lord" (Romans 8:37-39).

THE PRAYER: Dear Lord, from things seen and unseen deliver us. Keep my eyes on the Savior and the victories He has won to forgive and to rescue sinners In Jesus' Name. Amen.

Note: This Sunday, the beginning of Advent, the Daily Devotions will be written by Dr. Kari Vo. Her devotional, Love Came Down speaks of God's activity in the world. From ancient prophecies foretelling the coming Messiah to Jesus' birth in a crude manger, the stage was set for God to enter our lives in the flesh.

As Dr. Vo says, "Jesus came into the world to be one of us, the Man Christ Jesus. He took the penalty for our rebellion upon Himself, all the way to death on a cross, so we wouldn't have to pay that price. He broke the power of sin and evil on that day. And when He rose from the dead three days later, He broke the power of death over everyone who is willing to trust in Him."

I will resume the Daily Devotions in January, after Epiphany. So, my friends, a most blessed Christmas and New Year! In Him, Pastor Ken Klaus


In Christ I remain His servant and yours,

Pastor Ken Klaus
Speaker emeritus of
The Lutheran Hour
®
Lutheran Hour Ministries
Today's Bible Readings: Ezekiel 40-41 2 Peter 3