"Eleven Minutes"
---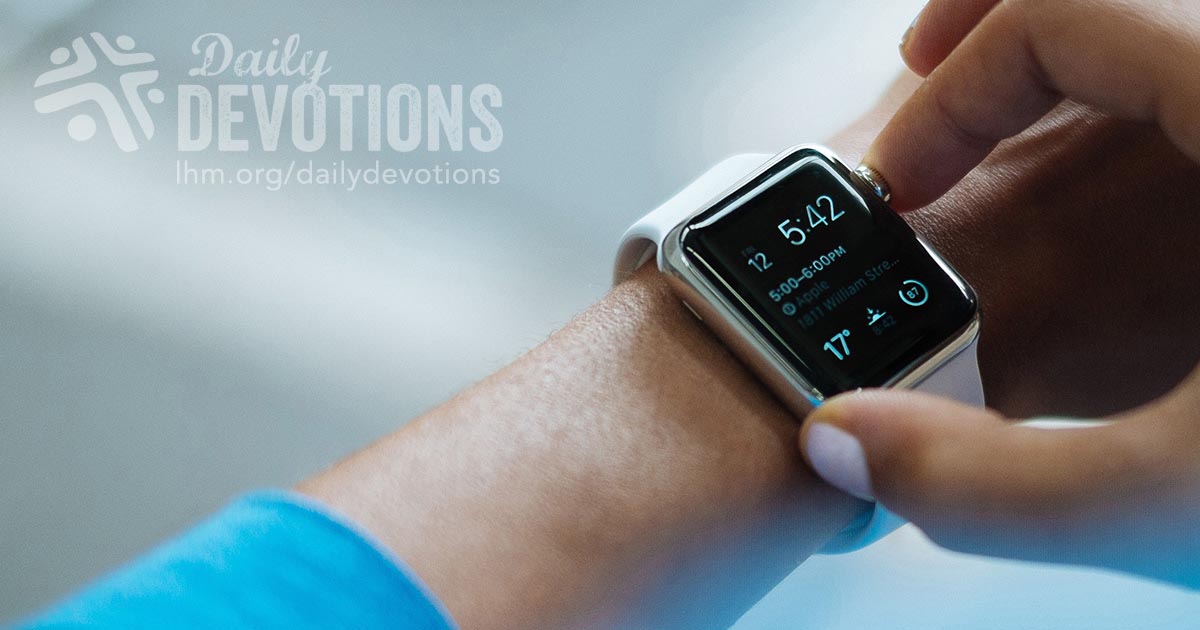 Psalm 103:1-5 - Bless the Lord, O my soul, and all that is within me, bless His holy Name. Bless the Lord, O my soul, and do not forget all His benefits- who forgives all your iniquity, who heals all your diseases, who redeems your life from the pit, who crowns you with steadfast love and mercy, who satisfies you with good as long as you live so that your youth is renewed like the eagle's.
Among the many gifts I received for confirmation was a Timex watch: you know the ones -- "They take a lickin' and keep on tickin."

As the proud possessor of a new watch, I felt it was my duty to time things which is how on Thanksgiving Day I found myself timing Pastor Abel's prayers. As I stood, shuffling from side to side on my restless feet, the pastor prayed for

• people who were about to get married and those whose marriage had gone on for a while;

• the people who were sick, for those near death, and those who were healthy;

• for the children of the church, the leaders of the church, and those who had been delinquent from the church.

He prayed for the grade-school, high-school, and college kids; for those who were in the military; and those who had moved away and escaped his lovingly watchful eye. He prayed for democracy, the church, the country, and then he prayed against the heathen Communists.

Folks, my pastor prayed for eleven and a half minutes, almost as long as a short sermon. And, at that age, I could not figure out why anybody would have a Thanksgiving prayer that would run that length of time. Well, today I know. Indeed, I know two reasons why Pastor Abel did what he did.

Reason number one: pastor took the words of the Psalmist printed up above seriously. Pastor knew it was our obligation and our privilege to offer unending thanks to the Lord. Especially on Thanksgiving Day, pastor thought it right and proper to remember -- and list -- as many of God's earthly benefits as He could.

At the same time, even on that special day of thanks, our pastor didn't feel comfortable just speaking about physical gifts from God. He also wanted to call to our recollection the Lord's kindnesses when it came to the spiritual blessings He had extended. Once again, the Psalmist led the way when he mentioned two of the biggest blessings: the forgiveness of sins and our redemption. But as I said, there was another reason for that long prayer, and so there was.

That second reason is we have a God who is ready to listen to our prayers.

While an eleven-minute prayer might seem like an eternity in purgatory to a 12-year-old, it was music to the ears of the Lord. You see, the Lord had sent His Son into this world to be the sacrificial payment to redeem our souls. It was a great sacrifice, which ought to evoke an ongoing response.

In other words, to not pray was to take Jesus for granted. And that's not what God's people do.

THE PRAYER: Dear Lord, may our hearts be filled with appreciation for the blessings which You have given us through Your Son, our Savior, in whose Name we pray. Amen.

P.S. That day I promised myself, if ever I had a long prayer I would let the people sit. It was a promise I kept throughout my ministry. Pastor Klaus

In Christ I remain His servant and yours,

Today's Bible Readings: Daniel 11-12 1 Timothy 1
To Download Devotion MP3 to your computer, right click here and select "Save Link As" or "Save Target As" or "Download Linked File As"