"Committed to the Message of Grace"
---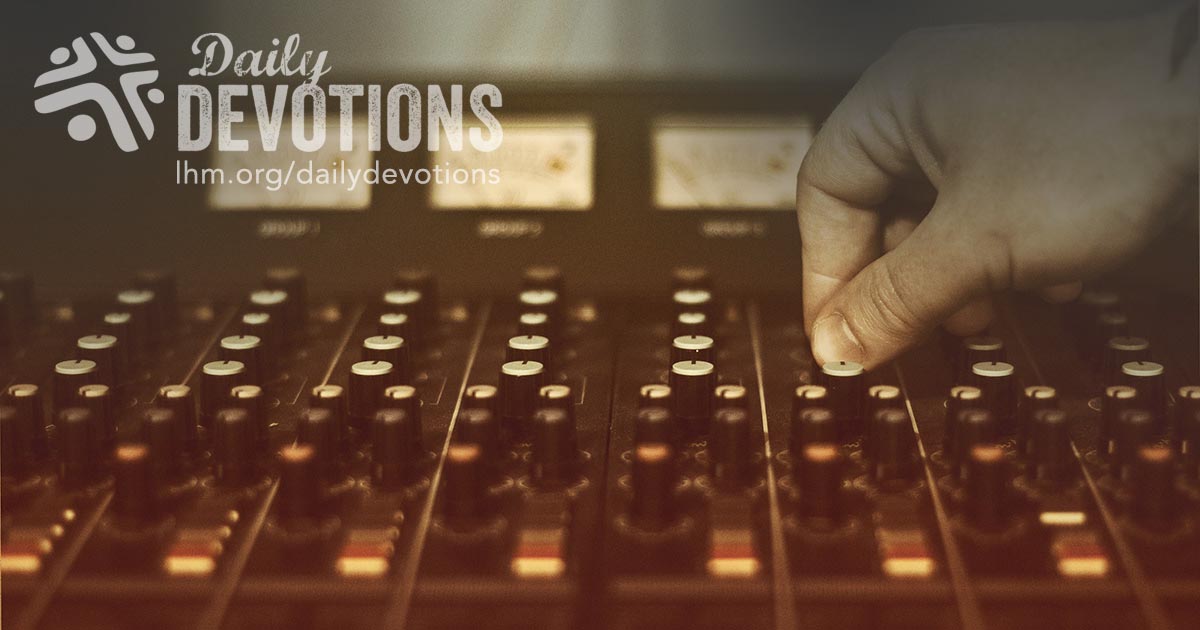 2 Corinthians 4:13b-14 - It is written: "I believed; therefore I have spoken." With that same spirit of faith we also believe and therefore speak, because we know that the One who raised the Lord Jesus from the dead will also raise us with Jesus and present us with you in His presence.
These last three sermons were some of the most emotional in my life. They were written and recorded in Wittenberg, Germany, in the 500th year celebration of Martin Luther and the Reformation. They are written to summarize the passion of The Lutheran Hour, and the passion not only of my work as the Speaker, but the passion of every person who has been privileged to be called the Speaker of The Lutheran Hour from Walter Maier to Oswald Hoffman to the present day. They were written in the 100th-year anniversary celebration of the Lutheran Layman's League, a group of servants in LCMS churches who have been committed, body and soul, prayerfully and financially, to share the Good News of the Gospel of Jesus Christ on the radio to all who would listen. Why? Just so that they too might come to know the joy of being in a faith relationship with Jesus Christ, the Lord and Savior of all. That's a lot to celebrate today, isn't it? But, the big thing about yesterday, today, next Sunday, and every day to come is the joy of being Christ's committed disciples, living in the joy of trusting in the grace of God in Jesus, and being up for the challenge of being committed to sharing the message of Jesus with anyone who will listen.

My joy of being behind this microphone was the joy of sharing God's love in Jesus with you these past several years. The honor was not the status, but the opportunity to hear the message myself, and share with you. There's nothing like being committed to sharing Christ's message of grace. It means that your sins won't overwhelm you. It means that guilt has been paid for. It means that whatever you are facing today, by faith in Jesus, you are not alone. The cross of Jesus Christ is unlike any other event in human history. Nations rise and fall. Leaders lead for a time, but that time always comes to an end. Human bravado may satisfy for a moment, but only a relationship to the God who created and redeemed you in Jesus, that abundant life, and that life alone, is the only thing that will last.

So please hear me one more time. This message endures. This offer is always present in the preaching of the Gospel. And this Gospel is something that Jesus Himself will keep proclaiming through His church, through His people, so that all might know and believe.

When St. Paul wrote this passage in 2 Corinthians, the church, the people that he wrote to, well, they weren't treating him very well. It was a rocky relationship that he had with these Corinthians. They thought they didn't need him; they didn't need anyone -- even Jesus Himself. Paul was willing to pay any price to proclaim the message of grace to them, to make sure that it got to their ears, and by God's grace, to their hearts. By the power of the Holy Spirit, that is my prayer for you this day. Let the message of Jesus which originated in His commitment to live, to die, and to rise again for you, let that message overwhelm with His grace, now and forever!

THE PRAYER: Dear Lord, may Your Gospel good news overwhelm us all with Your grace, empower in each of us a committed faith towards You, with a fervent love to others, and may the Gospel's joy empower each of us to live life boldly in Your Name forever. With heaven-bound joy we pray. Amen.

In Christ I remain His servant and yours,


Today's Bible Readings: Jeremiah 15-17 Colossians 2
To Download Devotion MP3 to your computer, right click here and select "Save Link As" or "Save Target As" or "Download Linked File As"