"Some Really Good News"
---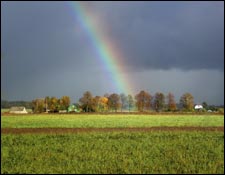 Therefore, if anyone is in Christ, he is a new creation. The old has passed away; behold, the new has come. All this is from God, who through Christ reconciled us to Himself and gave us the ministry of reconciliation; that is, in Christ God was reconciling the world to Himself, not counting their trespasses against them, and entrusting to us the message of reconciliation. 2 Corinthians 5:17-19
To the best of my knowledge, none of the Daily Devotion readers have won the $1.6 billion Powerball lottery.

Now just because Pam and I didn't win those mega-dollars, that doesn't mean we didn't receive a lot of enjoyment from the lottery. After Christmas, as we drove back from Minnesota to Texas, we passed some of those miles by talking about what we would do if we were ever to receive such a fortune.

We spoke of paying off mortgages for our children, setting up trust funds for our grandchildren, and whether we would need bodyguards to keep us safe. We spoke of serious things and those which were more frivolous. We talked of lake cottages and trips we have not yet taken. We chatted about the cars we might like ('57 Chevy convertible) and how we would respond to all the folks who would show up on our doorstep asking us to invest in "get-rich" schemes.

But, as I said, you didn't win, and we didn't either.

On the other hand, John and Lisa Robinson from Tennessee did win and are receiving one-third of the prize. After they came forward, the Robinsons went to New York and allowed themselves to be interviewed on morning TV. Two of the questions they fielded were "How will your life be changed?" and "What are you going to do which is different?"

I was shocked to hear the Robinsons are going to continue to live in their modest home and, although they no longer need to, they will keep their current jobs. They said on the following Monday they intended to show up at work, as if nothing had happened.

I was surprised by their responses. On the one hand, I admired them for keeping their values and standards when many other people would have gone nutso. But I was also shocked. It occurred to me that life-changing good news should make a profound difference in their lives and the way they approached things.

The same ought to be said for those who have been given the great news of forgiveness and salvation that has been won for them by the Savior. We have been given the best news possible, and our lives and hearts should reflect that change in wonderful and powerful ways.

As St. Paul wrote, "if anyone is in Christ He is a new creature. The old has passed away and the new has come." It is a transformation which is more sweeping and should cause greater excitement than winning a temporary and, dare I say it, a paltry $1.6 billion.

THE PRAYER: Dear Lord, because of Jesus' successful sacrifice I have been made richer than I ever imagined. May my life reflect the joy of a person whose sins have been forgiven and who has been awarded eternal life. This I ask in Jesus' Name. Amen.

In Christ I remain His servant and yours,

Today's Bible Readings: Genesis 29-30 Matthew 19
To Download Devotion MP3 to your computer, right click here and select "Save Link As" or "Save Target As" or "Download Linked File As"