"Within His Rights"
---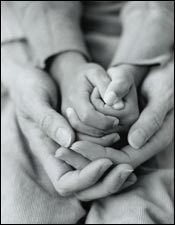 For while we were still weak, at the right time Christ died for the ungodly. For one will scarcely die for a righteous person -- though perhaps for a good person one would dare even to die -- but God shows His love for us in that while we were still sinners, Christ died for us. Since, therefore, we have now been justified by His blood, much more shall we be saved by Him from the wrath of God. Romans 5:6-9
During the course of her life, my wife has done many jobs and worn many hats.

That being said, even though she was an excellent teacher, and remains a superior wife and mother, she is at her best as a grandma. In the right time, and in the right way, she encourages, applauds and appreciates her grandchildren. On those rare occasions that she disciplines, she does so with a tone so gentle, the offender is more than glad to mend his ways.

Not all grandmothers are cut from Pam's bolt of cloth.

As evidence, I share with you the story of the Austrian grandmother who recently passed away in a retirement home. Before she did, she collected her life's savings, a little over $1 million, and cut up the cash -- cut it up into very small pieces.

This she did because she wanted to make sure her descendants didn't inherit the cash.

Now the articles I read gave no reason why grandma would have felt that way.

I don't know if the family had stopped visiting with her, or if they had been in an argument with her, or she resented living in a retirement home. It may be that grandma had been losing parts of her mind and personality to an illness. I don't know.

I do know she got rid of her money, and she was within her rights to do so.

That line, "within her rights," is pretty frightening. You know, the Lord was within His rights to punish the world's sinners. When He made Adam and Eve, the Lord had said, "Don't sin ... if you do, it is going to cost you" (see Genesis 2:15-17). Well, our ancestors sinned and, as a result, the Lord had to keep His promise and punish them. He was within His rights to do so.

But along with being just, the Lord is also gracious and He decided to give us that which we didn't deserve. He sent His Son into the world to seek and save the lost. Jesus gave His life so we might be brought to faith, forgiven and saved.

We had no right to expect God to do that, but He did -- and for this we ought to be thankful.

THE PRAYER: Dear Lord, I give thanks You have loved us who are unlovable and have been a faithful Friend to us who have been faithless. Most of all I give thanks for the Savior who gave His life for my salvation. In Jesus Name I give thanks. Amen.

In Christ I remain His servant and yours,

Today's Bible Readings: Ezekiel 11-13 1 Timothy 6
To Download Devotion MP3 to your computer, right click here and select "Save Link As" or "Save Target As" or "Download Linked File As"