---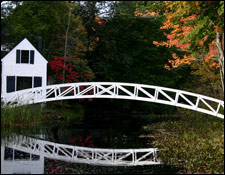 But when He (Jesus) heard it, he said, "Those who are well have no need of a physician, but those who are sick." Matthew 9:12
An Oregon couple, Dale and Shannon Hickman, gave birth to their baby at home.

This was done not because they couldn't afford a hospital or because they had a doctor or trained midwife in the family who had come to their house. No, they had their baby at home because they are members of the Followers of Christ Church. One of the beliefs of the Followers of Christ Church is it prefers to trust the Lord for healing and help rather than organized medicine.

For them a trip to the doctor is a sign they have a weak faith.

Now normally none of that would be a problem. But the birth of the Hickman's baby was not a normal experience. Their baby, David, came early and entered this world with staphylococcus pneumonia. It was a life-threatening condition the untrained couple didn't realize was there until shortly before their child died. Commenting on the death of the child, one doctor said, "The child would have had a 99-percent chance of survival if the Hickman's had brought him in."

But they didn't, and their baby died. Now the Oregon Supreme Court has convicted both parents of second-degree manslaughter for failing to treat this condition at the hospital.

Dale and Shannon will be in separate Federal penitentiaries until, at least, January 2018.

It is my opinion that the hearts of every Daily Devotioner goes out to this couple. Not only have they lost a child, now they are also being punished for trying to be faithful to the Lord and their understanding of Scripture.

The greatest sadness is that their understanding of Scripture is not sound.

Now there is no doubt the Lord can do miraculous healings. As a parish pastor, I encountered more than one time when an individual's recovery stumped all the experts. Still, as far as I know the Lord nowhere commands His people to expect a miracle. As Jesus said, the sick are the ones who need a physician.

He didn't say, "The sick need a miracle."

The truth is this: the Lord has given us many gifts, which He encourages us to use. One of those gifts is the wonders of modern medicine and another would be the wisdom and skill He has entrusted to the minds of physicians and the hands of surgeons.

Now I don't think any of our Daily Devotioners would follow in the path of the Hickmans. On the other hand, the devil loves to misquote and misinterpret Scripture so as to confuse the Lord's people.

This is why this devotion encourages you to search the Scriptures and do so in a way that allows God's truth to shine through the devil's darkness.

THE PRAYER: Dear Lord, the devil relishes nothing more than to substitute his lies for Your truth. Send Your Holy Spirit to guide me in hearing You and the Savior's story. In Jesus' Name I pray. Amen.

NOTE FROM PASTOR KLAUS: Oregon is one of the few states which does not make exception for parents who follow their religious beliefs and eschew modern medicine.

In Christ I remain His servant and yours,

Today's Bible Readings: Jeremiah 49, 13-22 Hebrews 3
To Download Devotion MP3 to your computer, right click here and select "Save Link As" or "Save Target As" or "Download Linked File As"