"Jesus Came for Me"
---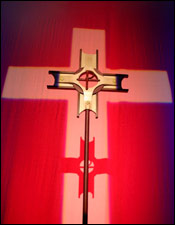 The saying is trustworthy and deserving of full acceptance, that Christ Jesus came into the world to save sinners, of whom I am the foremost. But I received mercy for this reason, that in me, as the foremost, Jesus Christ might display His perfect patience as an example to those who were to believe in Him for eternal life. 1Timothy 1:15-16
All of us have done something wrong.

In a sinful world, filled with sinful people, that's not entirely surprising. Some people do a lot of somethings wrong and others not so much so. But we all have done something wrong. A few months ago, while I was standing in line at the grocery store, I observed two little boys around the ages of three and four doing what three- and four-year-old boys do best.

They were fighting with each other.

The battle escalated with the older doing the taunting, and the younger fighting for position. Eventually, because he couldn't come up with anything better, the younger said, "I hate you!"

The older replied in kind: "Not as much as I hate you."

Realizing she had lost control, mother resorted to a bit of bribery: "Boys, you know we don't talk that way to each other. I'm not going to take my two young men to McDonald's as long as they hate each other."

Recognizing a superior offer when he heard it, the four-year-old capitulated. Without a great deal of sincerity he apologized: "I don't really hate you."

But the younger was a man of some backbone. He stood fast and boasted: "I'm not hungry. I still hate you." Those boys are just a small proof: we all have done something wrong ...

except for Jesus.

* Jesus did everything right. Everything.

* He loved you with a love that cannot be measured.

* He gave to the world when there was no thanks.

* He healed when there was no hope and He died without complaint.

Jesus did nothing wrong and everything right -- all this for you. He lived for you and died for you. And today He sends His Spirit to call all of us to repentance, to summon all of us to forgiveness, to bring all of us who are given faith into His family.

Understand, God so loved the world, He gave His only Son, but He also wants you to know that Jesus' love is a very personal thing. Jesus came, lived, died and rose for you. Wherever you are reading or listening to this devotion, you should know, Jesus came for you.

For you Jesus did everything right, so you might be made right. This is what Jesus has done. It is enough. It is everything.

THE PRAYER: Dear Lord, I give thanks the Savior came for me. For my sins, Jesus was born, lived, suffered, died and rose. For my salvation He has sent the Holy Spirit. Now may I -- a new child in Your family of faith -- give thanks in all I do. This thanks I offer in Jesus' Name. Amen.

In Christ I remain His servant and yours,

Today's Bible Readings: Jeremiah 18-19 Colossians 3
To Download Devotion MP3 to your computer, right click here and select "Save Link As" or "Save Target As" or "Download Linked File As"