"Loving the Lost and Lonely"
---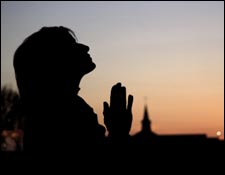 In this the love of God was made manifest among us, that God sent His only Son into the world, so that we might live through Him. In this is love, not that we have loved God but that He loved us and sent His Son to be the propitiation for our sins. 1 John 4:9-10
The woman was dying of AIDS.

Although she had been a faithful wife, her husband had not been an honorable helpmeet. She contracted the illness from him, and then he left for points unknown. As was the case years ago, the woman soon found herself deserted by her friends.

Her reputation had been unfairly ruined.

To stave off loneliness, sort of, she summoned a minister to her hospital room. She wanted him to provide some kind of comfort. But, of course, she had little hope he or anyone else could do so. She had been forgotten. When the chaplain arrived, she whispered, "I'm lost. My life is ruined, and so are the lives of those around me. There is no hope."

Looking around, the pastor saw a silver-framed picture of a pretty girl on the dresser. Not that it makes much difference; this little girl was about 12 years old.

"And who is this?" the minister asked.

For the first time, the woman seemed to brighten. "That's Teri, my daughter. She is the only beautiful thing left to me."

The pastor asked, "Do you mind if I ask a question?"

She didn't mind.

"Would you still call Teri your daughter if she was in trouble, maybe bad trouble? Maybe none of her friends talked to her or wanted to spend time with her. Would you still love her?"

With understandable upset, the woman replied, "Reverend, what kind of question is that? Of course, I would love her. She's my daughter. I'm her mother. When everyone else leaves her, that's when she would need me the most."

The minister, in a voice hardly above a whisper said, "Even so. Even so. It was a hard question, but I needed to hear your answer. You see, I want you to know that God has your picture on His dresser too."

From there, he explained to her, just as I'm explaining to you, that when no one else cares, God especially cares. When you are unimportant to the rest of the world, you are all-important to your Father.

He loves you. He sent His Son to live, suffer, die and conquer death for you.

That's how important you are to Him: important enough to let His only Son die so that you, if you have the faith He wishes to give, will live forever. God doesn't care what others may think about you or how they treat you. He loves a sinner like you and me. He loves us and has done that which is necessary to make our sins go away.

And that's real love, don't you think?

THE PRAYER: Dear Lord, because we are sinful and You are holy, we should have been absolutely unlovable. Thankfully, You, Lord, are merciful and gracious and continued to love us and wished to save us. For Your remarkable Son and His work of redemption, I give thanks. In Jesus' Name. Amen.

In Christ I remain His servant and yours,

Today's Bible Readings: 2 Chronicles 31-32 Acts 20:1-16
To Download Devotion MP3 to your computer, right click here and select "Save Link As" or "Save Target As" or "Download Linked File As"