---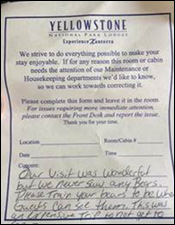 ... for I have learned in whatever situation I am to be content. I know how to be brought low, and I know how to abound. In any and every circumstance, I have learned the secret of facing plenty and hunger, abundance and need. I can do all things through Him who strengthens me. Philippians 4:11b-13
Yellowstone National Park in Wyoming is a spectacular and an incredibly fascinating place.

With its bubbling paint pots, its geysers which perform, more or less, according to schedule, and an abundance of flora and fauna, Yellowstone has something for everyone to see. It's not an exaggeration to say it offers a kaleidoscope of ever-changing vistas and experiences.

That being said, it's easy to understand why more than three million people will make the pilgrimage to spend some time in one of the Lord's pretty-near perfect places.

Did you notice the carefully chosen words in that last sentence: pretty-near perfect places?

I wrote "pretty-near perfect" because there are some folks who find Yellowstone disappointing. For example, this year a suggestion was turned in by a person who apparently stayed at Yellowstone Lodge. The note said, "Our visit was wonderful but we never saw any bears. Please train your bears to be where guests can see them. This was too expensive to not get to see bears."

Although I have not spoken to any Yellowstone rangers, I believe it unlikely they will be implementing this suggestion any time soon. I guess it all goes to prove that you can't please everybody.

Years ago, during a confirmation discussion on the Lord's omnipotence, a student raised her hand and said, "I know something God can't do. God can't please everybody." She was right. God couldn't please Adam and Eve with a perfect Garden and He hasn't pleased most people since the fall into sin.

All too often sinners believe God does too little, too much, too soon, or too late.

Sinners believe that because they think they know better than the Lord when it comes to how and when things should be done. I am afraid it takes some maturing and experience for people to get to that point where they can join their voices to that of St. Paul and say, "I have learned in whatever situation I find myself to be content."

It takes a bit of faith to sincerely pray, "Nevertheless, Thy will, not mine be done" (see Luke 22:42).

Still, contentment with and acceptance of God's wisdom is the Christian's goal. We need to strive for a faith that knows the Heavenly Father who sent His Son to give His life as a ransom for sinful humanity is always going to do what is right and best for us -- always, every time.

And that may even mean we are content when we don't see bears when we go to Yellowstone.

THE PRAYER: Dear Lord, let me be content to trust Your grace and mercy in every situation of life. This I ask in Jesus' Name. Amen.

In Christ I remain His servant and yours,

Today's Bible Readings: Isaiah 5-6 2 Corinthians 13
To Download Devotion MP3 to your computer, right click here and select "Save Link As" or "Save Target As" or "Download Linked File As"