"One of His Followers"
---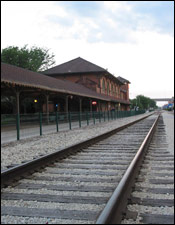 Let each of you look not only to his own interests, but also to the interests of others. Have this mind among yourselves, which is yours in Christ Jesus, who, though He was in the form of God, did not count equality with God a thing to be grasped, but emptied Himself, by taking the form of a servant, being born in the likeness of men. And being found in human form, He humbled Himself by becoming obedient to the point of death, even death on a cross. Philippians 2:4-8
In the 1800s, a crippled boy was hurrying to catch a train.

Because he was carrying gifts and trying to work his crutches, the going was difficult. In the rush, a man bumped into him. Parcels flew every which way. The boy was thankful when the man stopped and turned around. Picking up those packages and getting to his feet again was going to be a struggle. But the man didn't help the boy with his packages.

The man had turned around and come back to give the lad a little lecture on staying out of the way.

Insult had been added to injury, and the boy just sat there, sat there trying not to cry. He knew his train was leaving soon, and it was the last one of the day. That being said, he could think of no way he could collect himself and his packages and still get to his coach. The more he thought, the less he cared about whether anyone saw him cry.

It was then that another man made his presence known. In truth, he had been there from the beginning.

He had seen the first man run into the boy, heard the man's unfair tongue lashing, and seen the lad's pain and frustration. He helped the boy to his feet, got him steady, collected the packages, and helped the boy balance out his load.

The last thing the man did was find the boy's train and, with a rather loud voice, kept shouting, "Excuse us!" until the lad reached his car. Just as the boy, unaccustomed to such caring, was ready to get on the train, he turned and said, "Thank you so much! Sir, tell me, are you Jesus?"

"No," replied the man, "but I am one of His followers."

One of Jesus' followers.

I guess that's about as good a description of a Christian as we will ever hear. It keeps the Savior as the center and as the inspiration of all that we do. At the same time it says our actions are done to glorify Him.

Of course, St. Paul said it better: "Let each of you look ... to the interests of others. "Remember, the Savior was equal with God and, indeed, He is God. Even so, He still came to earth and became one of us. It was quite a step down, but He did it completely without complaint. As one of us, He fulfilled the Law, resisted temptation, died on the cross, and rose on the third day.

All this Jesus did so we might be forgiven and saved. This is why any of us should be honored to be "one of His followers."

THE PRAYER: Dear Lord, there are no words to explain the love which brought You to earth for the purpose of saving us. All we can do is remain faithful, offer our thanks, and try to be counted as one of Your followers. Grant this may be so. In Jesus' Name. Amen.

In Christ I remain His servant and yours,

Today's Bible Readings: 1 Chronicles 13-15 1 Corinthians 9
To Download Devotion MP3 to your computer, right click here and select "Save Link As" or "Save Target As" or "Download Linked File As"