---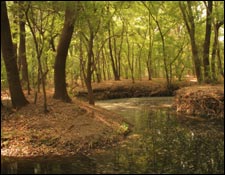 Be sober-minded; be watchful. Your adversary the devil prowls around like a roaring lion, seeking someone to devour. Resist him, firm in your faith, knowing that the same kinds of suffering are being experienced by your brotherhood throughout the world. 1 Peter 5:8-9
Beginning a job at a local shipyard, St. Louis native Tommie Woodward recently moved to Orange, Texas. He was settling into life in the Lone Star State, but he hadn't yet learned all the rules for working and playing in the waters around Burkart's Marina.

For example, when he said he was going for a swim at 2:30 in the morning, the locals pleaded with him not to do so. They explained that alligators, including a "big" alligator, had been spotted in those waters.

Woodward's reply -- made immediately before he jumped in -- made it clear he had little respect for these large-toothed beasties.

According to those who were there, no sooner had Woodward gone in the water than he was dragged under. He managed to surface for a few seconds ... a few seconds during which he screamed for help. In a moment, he disappeared again. Most of Woodward's body was found a few hours later. In retaliation the alligator has been eliminated, and Woodward's recovered remains are being sent back home. Experts say it was the first alligator-caused death in Texas since 1836.

Woodward's story is a sad tale. It is especially tragic because if he had paid attention to the warnings of people who cared about him, there is every reason to believe he would probably still be alive.

The same thing can be said for us.

In his Epistle, Peter tells us to beware of Satan, who, like a roaring lion, is set on devouring unsuspecting and over-confident souls. Peter knows that Jesus has given His life to save us, has conquered death and grave to redeem us. That means as long as we stay with the Savior we are safe and secure.

But staying with the Savior also means we don't flirt with the devil and his temptations. We don't try to see how close we can get to this spiritual predator. He's quick; he's strong, he's sneaky, and we're his intended prey.

This is why it's sensible for Jesus' friends to always keep a respectable distance from their enemy.

THE PRAYER: Dear Lord, I give thanks for the victory Jesus has won for me through His life, death and resurrection. Please keep me from being foolish and flirting with my old evil foe, the devil. Help me remember that Jesus has saved me, but Satan still wishes to devour me. This I ask in the Savior's Name. Amen.

In Christ I remain His servant and yours,

Today's Bible Readings: Psalms 67, 71 Philippians 2
To Download Devotion MP3 to your computer, right click here and select "Save Link As" or "Save Target As" or "Download Linked File As"