"Stealing Souls"
---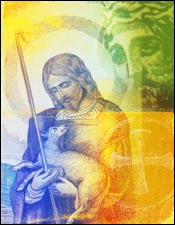 (Jesus said) "The thief comes only to steal and kill and destroy. I came that they may have life and have it abundantly. I am the Good Shepherd. The Good Shepherd lays down His life for the sheep." John 10:10-11
In his play, Othello, Shakespeare wrote,

"Who steals my purse steals trash; 'tis something, nothing;
'Twas mine, 'tis his, and has been slave to thousands;
But he that filches from me my good name
Robs me of that which not enriches him,
And makes me poor indeed."

Back when Shakespeare was writing, those words were true. Sadly, that is no longer the case.

Recently, the media shared that someone, possibly the Chinese, possibly someone else, had stolen the personal data of 4.2 million federal employees. Now it appears that the 4.2 million number may be the tip of the iceberg. Indeed, it has been suggested that the information of more than 18 million people, including their Social Security numbers, has been stolen.

In Shakespeare's language, this information allows them to steal people's good names as well as their purses.

If these records are placed in the hands of a terrorist organization or an enemy of the U.S., it will make it easy for them to find out where these people live, ruin their credit, steal their identities, and blackmail them. There is no other way to say it: this is a disaster, and for the people involved, things could hardly get any worse.

Well, that's not exactly true, is it?

According to the Savior, there is a thief who has come for the express purpose of stealing and destroying that which ought to be most precious to us. That thief is Satan and he entered this world to steal the souls of humankind from their Creator. His successful temptation of our first ancestors in the Garden of Eden has destroyed the perfect relationship that existed between us and the Lord. As a result, every person ever born could expect an eternity of punishment.

We had lost our souls to the forces of darkness; we had lost that which is more precious than good name or purse.

That is the way things would have remained if Jesus had not come into this world and set things right. Through His life, suffering, death and blessed resurrection, Jesus paid for our sins. His sacrifice has forgiven and saved the souls of all who believe on Him as their Lord and Savior. As the Lord said -- He has come so we might have life and have it abundantly.

THE PRAYER: Dear Lord, I give thanks that Jesus has done all that was necessary to save and restore me. Grant that everyone may believe in Him who has freed them from Satan and given all who believe an abundant life in Your love and grace. In Jesus' Name I give thanks. Amen.

In Christ I remain His servant and yours,

Today's Bible Readings: 2 Kings 4-6 James 2
To Download Devotion MP3 to your computer, right click here and select "Save Link As" or "Save Target As" or "Download Linked File As"