---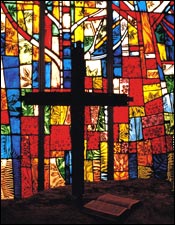 And being made perfect, He (Jesus) became the source of eternal salvation to all who obey Him, being designated by God a high priest after the order of Melchizedek. Hebrews 5:9-10
According to Katie Bouyea, his husband, Chris, is a pretty good husband.

She says that "He is very wonderful, very handsome, very handy."

Chris agrees. He is not embarrassed to say, "I cook. I clean. I mop floors. I do dishes. I paint."

Yes, all-in-all Chris Bouyea is a pretty good husband.

But Chris is not a perfect husband.

This past Mother's Day, Chris messed up. He didn't say, "Happy Mother's Day!" He didn't say, "Thanks, honey." He didn't encourage the couple's children to create a homemade Mother's Day card.

In short, Chris forgot all about Mother's Day.

To let her husband know this kind of amnesia was not acceptable, Katie decided to get her revenge. Just a little bit of revenge ... good-humored revenge. Katie put her husband up for sale on Facebook. Honesty compelled her to admit ..."eight years of marriage mileage has him somewhat broken in."

Chris was surprised at his wife's actions. He was more surprised at the fact Katie's post went viral and millions read it. He was most shocked the highest bid that came in was $20. Chris maintains, quite rightly, that he is worth more than $20.

Katie agrees. That is why she has laughingly forgiven him, at least until Chris forgets again.

And he probably will forget. Chris will forget because Chris isn't perfect -- just like we aren't perfect.

No, if you want perfection you are going to have to look to Jesus.

Only Jesus led a perfect life. Only Jesus resisted Satan's temptations every single time they were presented. Only Jesus never stumbled and sinned. Only Jesus carried every single sin of humankind to the cross. Only Jesus was able to defeat death perfectly and for all time.

Remember, Jesus' perfection is important. One slip, one stumble, one moment of weakness or forgetfulness and Jesus' mission of saving us from damnation would have been a failure, and God's plan would have been a great disappointment.

But Jesus was, is, and always will be perfect. This is why St. Paul could write, "For if, because of one man's trespass, death reigned through that one man, much more will those who receive the abundance of grace and the free gift of righteousness reign in life through the one (perfect) Man Jesus Christ" (Romans 5:17).

THE PRAYER: Dear Lord, I give thanks Your Son was all the wonderful things my sinfulness would never let me be. May the world come to know and give thanks to Him for His perfect love, which has saved us. In His Name I ask it. Amen.

In Christ I remain His servant and yours,

Today's Bible Readings: 1 Kings 1-2 John 18:19-40
To Download Devotion MP3 to your computer, right click here and select "Save Link As" or "Save Target As" or "Download Linked File As"