"Unexpected Places"
---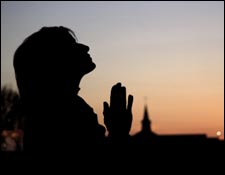 Now to Him who is able to keep you from stumbling and to present you blameless before the presence of His glory with great joy, to the only God, our Savior, through Jesus Christ our Lord, be glory, majesty, dominion, and authority, before all time and now and forever. Amen. Jude 1:24-25
A savior can come from a most unexpected place.

For example, last month a Las Vegas telemarketer made a standard sales call for Americare Health & Nutrition to a potential customer in Oregon. The customer's phone rang and went live, but the customer never entered into a conversation.

What the telemarketer heard was the sound of screaming and a woman being beaten.

When the telemarketer asked if the woman was okay, there was no response. That's when, from 900 miles away, the telemarketer and her supervisor called the Linn County Police Department. They stayed on the line until the officers arrived.

Only afterward did the telemarketers find out that a man by the name of Warren Ruck had been strangling his victim: the woman they had called. According to the lady, she said Ruck had a gun and had threatened to kill her.

Today there is an Oregon woman who would agree that a savior certainly can come from a most unexpected place, even a Las Vegas telemarketing firm.

In the next few weeks, the Christian world is going to remember the passion, suffering, death and resurrection of Jesus Christ, the world's one and only Savior. Jesus' earthly ministry does have a bit of the unusual about it:

* His birth took place not in a palace but in a stable, and His first crib was an animal's feed trough.

* Wise men came to worship and present gifts to Him, but His own nation's king did his best to have Him murdered.

* The demons He had come to vanquish recognized Him at a glance, but His own disciples had a difficult time understanding His mission.

* While His own disciples mourned His death in hiding, the leaders who had plotted His murder tried to make sure He wouldn't rise from the dead as He had promised.

* People loved His miracles, but many have never recognized the greatest miracle God's Son did for sinful humanity: He fulfilled the Law, resisted temptation, and defeated death. All this He did so all who believe on Him might be saved.

Yes, there is a bit of the unusual in this Savior, and there is more than a bit of the wonderful. God's Son gave His life, His all, so we all might have life and have it abundantly.

THE PRAYER: Dear Lord, I give thanks You left heaven's high throne and came to earth to be my Savior. I know there have been many others who would like to have that title, Savior, but You and You alone have done all that was necessary to save this sinful world from its sin and the damnation our transgressions bring. For this may I always give thanks. In Your Name. Amen.

In Christ I remain His servant and yours,

Today's Bible Readings: Exodus 25-26 Mark 1:1-22
To Download Devotion MP3 to your computer, right click here and select "Save Link As" or "Save Target As" or "Download Linked File As"