"Same Old, Same Old"
---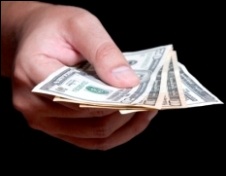 He himself bore our sins in his body on the tree, that we might die to sin and live to righteousness. By his wounds you have been healed. For you were straying like sheep, but have now returned to the Shepherd and Overseer of your souls. 1 Peter 2:24-25
Some time ago I read about a middle-aged couple who, having picked six correct numbers in the lottery, ended up with a pile of cash.

When the press interviewed the couple, they said the money was nice, but it wasn't going to change them or their lifestyle. Their statement seemed so strong and atypical; the newspaper sent some reporters back a year later to see if the couple had kept their word.

They had.

With their fortune tucked away in the bank, the couple was living just as they had been. They were in the same house, worked at the same jobs, and they drove their same old used cars. The only difference was this: they had taken a foreign vacation rather than spending the off-time locally. This past week, when I shared that story with others, the most common reaction was, "Wow, think how great it would be if I was part of such a contented couple."

Me, I think it's pretty sad. That couple has got everything money can buy, and they're living as if they were broke.
They remind me of many people who know Jesus and are fully aware that faith in the Christ brings with it many great and wonderful blessings. They been taught that truth; they know that truth; they could repeat that truth back to you... BUT....

They act as if they don't want those blessings and they can get by just fine on their own.

How sad the Lord must be to see such indifference and ingratitude. When humanity had doomed itself to hell, the Lord had compassion upon them and put into effect a promise and a plan to rescue us. Jesus came into this world to seek and save sinners; to make a change in lost lives. Jesus lived, died, and rose so all who believe might be redeemed and recycled and restored.

We dare not pretend as if we don't need Him or act as if we're all right on our own. Scripture is clear: there is not a just man on the earth who always does good and never sins. Knowing that is true, the Lord sent His prophets, His priests, His apostles to call people from being condemned to being rescued by God's Son.

To share the wonderful story of salvation is why your church exists; it is why your pastor gets in the pulpit; why missionaries are sent throughout the world.

Jesus has come. He was, is, and always will be God's great Gift of grace to sinners like you and me. That was the message of The Baptizer. It remains the message of every Bible-believing pulpit, pastor, and parish.

Repent and believe in the Lamb of God who takes away the sins of the world.

THE PRAYER: Dear Lord, I have been washed of my sins by Jesus' blood and through His sacrifice. May my words, actions, and heart show the changes that blessed truth has made in me. This I ask in the Savior's Name. Amen.

In Christ I remain His servant and yours,

Today's Bible Readings: Psalms 77-78 Revelation 6
To Download Devotion MP3 to your computer, right click here and select "Save Link As" or "Save Target As" or "Download Linked File As"