"Team Player"
---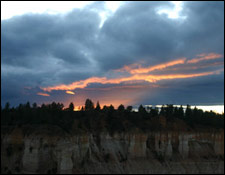 Blessed be the God and Father of our Lord Jesus Christ! According to His great mercy, He has caused us to be born again to a living hope through the resurrection of Jesus Christ from the dead, to an inheritance that is imperishable, undefiled, and unfading, kept in heaven for you. 1 Peter 1:3-4
True story: years ago there was a professional football player who never forgot those who had helped him.

When his old college coach came and asked him to assist with some recruiting, he was more than glad to do what he could. Looking for some guidelines, the football player asked, "Tell me, coach, exactly what kind of player are you looking for?"

The coach thought for a second and replied, "There are all kinds of players. You've met most of them. For example, you've seen the guy that when he's hit hard, he stays down."

The professional player interrupted and said, "I'm pretty sure we don't want that guy, do we, coach?"

"Nope, we don't want that guy."

The coach continued. "Then there's the fellow who, when you knock him down, he gets up; and you knock him down again, and he gets up, and every time he's knocked down he keeps getting up."

"And that's the kind of player we're looking for to play on the team, isn't it, coach?"

This time there was no hesitation in the coach's response. He said, "No, we don't want that fellow either. I want you to find the player who's knocking everyone down. The guy who knocks down all the others, that's the guy we want."

Now, if I asked a large group of people if Jesus was any of those three, some people would say, "Jesus is the Fellow who, when you knock Him down, He stays down." They listen to every skeptic; they disregard Scripture, deny Jesus' miracles and His resurrection, then proudly think the Savior has been knocked down permanently.

Of course, there are many other people who know Jesus can't be gotten rid of that easily. These people know Jesus, along with His saving Gospel, have been on the scene for a few thousand years, and it's going to take a number of solid hits before the Savior is going to go down and be taken out of the game.

If you're wondering who would believe such a thing, all you have to do is turn on your television. An evening spent in front of the tube will bring into your home armies of authors and legions of actors who are relentless in undermining the Savior and His story of salvation.

The fact that there are millions of homes where Bible-believing fathers and mothers are raising Christ-blessed and God-fearing children remains ignored. The truth that there are tens of thousands of Christian clergy using God's pulpits to make a powerful witness to the grace of God, which comes to us through the crucified and risen Lord is a fact that is conveniently forgotten. Hollywood -- the home of infidelity, drug abuse, and scandal -- remains dedicated to hitting Jesus again and again and again. They will continue to hit Jesus because they quite wrongly believe if you hit the Lord hard enough and often enough, He's going to go down and stay down.

Well, the devil took his swipes at Jesus; the world had its opportunities to mess up His ministry, and even death tried to claim Him. The truth is every time Jesus got knocked down, He got up ... and then He clobbered His opponent. The devil was unsuccessful; the world was given a Savior, and death was defeated by Jesus' empty tomb.

A victorious Jesus, that's whose team we need to be on.

THE PRAYER: Dear Lord, I give thanks You have called me to be on Your team. May I do all I can to bring glory to You and hope for the hundreds of millions who can't say, "Jesus is my Savior." In Your Name I ask it. Amen.

In Christ I remain His servant and yours,

Today's Bible Readings: Ezekiel 18-19 2 Timothy 3
To Download Devotion MP3 to your computer, right click here and select "Save Link As" or "Save Target As" or "Download Linked File As"