"No Need for Tears"
---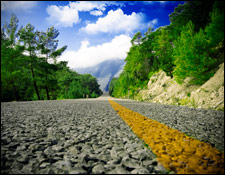 But, as it is written, "What no eye has seen, nor ear heard, nor the heart of man imagined, what God has prepared for those who love Him." 1 Corinthians 2:9
Although there are definite points of friction, for the most part, most of the time, most of us would say, "I like Canada and I like Mexico." I hope they feel the same way about the U.S. of A. If they do it is a remarkable thing, because most countries do not enjoy an amicable relationship with their next-door neighbors.

That being said, a week or so ago, there was a minor misunderstanding between the U.S. and the nation that lies across our southern border.

It seems a helicopter which belongs to the Mexican army managed to accidentally stray over the border in search of drug smugglers. When they spotted a car, they opened fire, albeit without hitting anything. Now you and I know, not hitting something is a bad thing when you are firing at an enemy. On the other hand, not hitting anything is a good thing if your target happens to be a car that contains Border Patrol agents employed by the American government.

Understand this isn't the first time such a thing has happened. There was another incident in January of this year. That's when a pair of Mexican soldiers, also trying to apprehend drug suspects, crossed the border and drew their guns on two suspicious looking characters. You guessed it; those suspicious characters were also Border Patrol agents.

Did I say it wasn't the first time such an incident has occurred? That's an understatement. Homeland Security has 300 referenced border crossings made by the Mexican police and army.

Now the first thing that crossed my mind was we've got to get those guys a GPS for their tanks and choppers. The second thing I thought of was that thing is not going to happen when we get to heaven.

No, I'm not talking about the Mexican police coming in with guns a-blazing. I'm speaking about the forces of evil. Although we are saved by God's Son, our Redeemer, that doesn't mean our lives are free from interruption or disturbance. In this life, problems -- all of which are the result of sin -- frequently cross over into our lives and cause all kinds of heartache, heartbreak and hurt.

But in heaven things will be different? How different? Well, I can't exactly say. Nobody can.

In fact, when John spoke about what he had seen in heaven, he pretty much had to talk about the things that were notably absent. He wrote, "He (Jesus) will wipe away every tear from their eyes, and death shall be no more, neither shall there be mourning, nor crying, nor pain anymore, for the former things have passed away" (Revelation 21:4).

Think about it. Because of the Savior's sacrifice, we will be spending eternity in a place where there won't be any mourning, any separation, any tears, or any pain. John was right. The old is gone, the new is come, and we will be at peace.

THE PRAYER: Dear Lord, it is difficult for us to imagine a place where the devil, death and the results of sin are unwelcome. Even so, we give thanks such a place exists and, because we have been given faith in the Redeemer, that place will be our eternal home. For this gift we give thanks in Jesus' Name. Amen.

All too often the job of reaching others is left to others. That can be unfortunate. After all, there are times when YOU may be the best person to reach someone who is lost or wandering. If you have always wanted to know how to do such a sharing of the Savior, you may want to attend Lutheran Hour Ministries' SENT Outreach Conference which is July 24-27 in Detroit. For more information, visit www.lhm.org/conference.

In Christ I remain His servant and yours,

Today's Bible Readings: 2Kings 1-3 James 1
To Download Devotion MP3 to your computer, right click here and select "Save Link As" or "Save Target As" or "Download Linked File As"