"Equipped by God"
---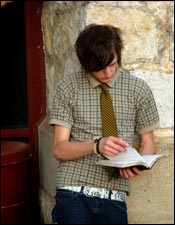 Now to Him who is able to do far more abundantly than all that we ask or think, according to the power at work within us, to Him be glory in the church and in Christ Jesus throughout all generations, forever and ever. Amen. Ephesians 3:20-21
The fifth-grade girl had won a contest at school.

Her prize was a special ticket which allowed her and her parents to enter the circus grounds two hours before the general public. Being a curious sort, she wandered here, there, everywhere. She saw how the lions were moved in and out of their cages; she watched as the clowns put on their makeup; she got to bounce in the net, which was set up under the trapeze artists. She went everywhere, and everywhere she had questions.

Her hardest question came when she observed the elephants that were being held by a chain, which went from a cuff around the animals' ankles to an unimposing post, which had been hammered into the ground. She asked one of the handlers: "Are your elephants weak, or are the posts hammered super-far into the earth?"

She was told, "It's not the stake which holds our elephants in place. Any of them could, without much effort, pull up that stake and go wherever they wanted. You see, when our elephants were very young, and before they got their strength, we tied them to such a stake. For a long time they pulled and struggled, but back then they couldn't get away. The stake held them back then, but it is their belief which holds them there now."

I wonder if God's people aren't -- at least once in a while -- like those elephants.

We who have Jesus as our Savior, also have His promises. We know He has given the assurance that He will always be with us; He has invited us to cast our cares upon Him; He has told us to come to Him when we are troubled and upset, and He has guaranteed the Father will listen to the prayer that is offered in faith.

Just as importantly, He has promised to send His Holy Spirit upon us.

All of this means that God is able to do far more with and for us than we ask or think possible. So if God has placed His limitless power behind us, what holds us back from being super-Christians and mega-witnesses to the Savior and the salvation we have been given?

No doubt there are many answers to that question, but one of those answers has to be we have allowed ourselves to be chained by our past shortcomings and yesterday's sins. Read through the Bible and you will see examples of God's hand-picked leaders, who were absolutely positive they were not up to the task to which the Lord had called them.

Moses, Jonah, Elijah and so many others felt their shortcomings were more powerful than God's wishes and commands.

How wrong they were.

How wrong we are if we feel the same way. If the Lord can use a few disciples to reach out and evangelize the world, if He can empower a German monk to reform His church, He can use us for His purposes, too.

And if you're wondering what purpose might that be? I don't know, but when you do find out, I do know that with the gifts God has given you, the two of you will be up to the task.

THE PRAYER: Dear Heavenly Father, may I give You glory for all the gifts You have given me through the work of my Savior. Now I ask that You will use me to accomplish Your purposes. And please may all this be done successfully according to Your will and not be kiboshed by my limitations. In Jesus' Name I ask it. Amen.

In Christ I remain His servant and yours,

Today's Bible Readings: Psalms 36-38 John 12:1-26
To Download Devotion MP3 to your computer, right click here and select "Save Link As" or "Save Target As" or "Download Linked File As"