"A Trusted Source"
---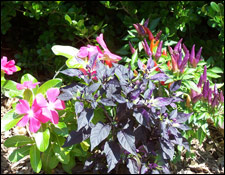 May the God of hope fill you with all joy and peace in believing, so that by the power of the Holy Spirit you may abound in hope. Romans 15:13
A few years ago on The Lutheran Hour, I told a beautiful story. It is a story which goes this way: in the 1800s, it was not unusual for a household servant to work six days a week, and 12 to 15 hours a day. Such was the life of a 19-year-old servant girl who lived in London.

I would like you to hear what she wrote:

"Lord of all pots and pans and things, since I've no time to be a saint by doing lovely deeds or watching late with Thee, or dreaming in the dawn's light or storming Heaven's gates, make me a saint by getting meals and washing up the plates! Although I may have Martha hands, I have a Mary mind; so when I black the boots and shoes, Thy sandals, Lord, I find! I think of how they trod the earth each time I scrub the floor. Accept this meditation, Lord; I haven't time for more. Warm all the kitchen with Thy love, and light it with Thy peace. Forgive me all my worrying and make all grumbling cease. Thou who didst love to give men food in room or by the sea, accept this service that I do. I do it unto Thee."

Having told that story, I said, "I know nothing more about that girl. I have no name, no picture, no information about what joys and sorrows life brought her. I can't tell you if she married, had children, or lived her entire life blacking someone else's boots in someone else's kitchen. I don't know anything about that girl, but what I know is enough. She had a repentant heart, and she knew Jesus as her Savior. I'm looking forward to meeting her in paradise, someday."

Well, folks, I'm not going to meet that girl in paradise. I know that because one of our listeners, touched by the story, did some further investigation. During her searchings she found the story is a fiction. Yup, that's right. My trusted source who gave me that story shouldn't have been trusted so completely.

Have you ever found yourself in the same predicament? By that I mean have you ever trusted someone who can't be trusted? Maybe there was a close friend who promised to keep your secrets, but didn't? Or possibly there was an individual who made a commitment, but didn't follow through? Maybe you were let down by someone whom you knew would always be there, but who has now disappeared? In all of these situations we have found that our trusted sources couldn't be trusted.

I guess that's the kind of thing which happens when sinners work with and depend upon other sinners.

Thankfully, it's not the kind of thing which happens when someone depends on the Triune God. If the Lord promises to send His Son to save us, He will keep that promise -- period. If He says you will never receive a cross too big for the two of you to carry; you can take that information to the bank. If He says you are saved by grace through faith and not, by your own good works, there is nothing you will ever hear which is more reliable.

Our great and gracious God -- along with His Holy Word -- are the sources we can trust without fear of being let down.

THE PRAYER: Dear Lord, it is beyond my power to understand why You would send Your Son to save me or offer Your promises to guide and reassure me. Even without understanding, may I give thanks that You can be trusted, both now and for always. In Jesus' Name I give thanks. Amen.

In Christ I remain His servant and yours,

Today's Bible Readings: Psalms 15-16 John 9:1-23
To Download Devotion MP3 to your computer, right click here and select "Save Link As" or "Save Target As" or "Download Linked File As"