"Good, but Not Enough"
---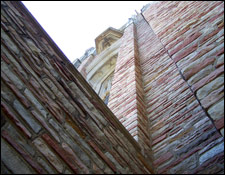 But when the goodness and loving kindness of God our Savior appeared, He saved us, not because of works done by us in righteousness, but according to His own mercy, by the washing of regeneration and renewal of the Holy Spirit, whom He poured out on us richly through Jesus Christ our Savior, so that being justified by His grace we might become heirs according to the hope of eternal life. Titus 3:4-7
Some people might say, you can't expect much from Kwasi Enin. After all, Enin is a first-generation American.

If that's what some people might say, they might also be wrong. According to USA Today, Enin seems to be a most exceptional young man. Part of that assessment is based on the fact that he has been accepted by all eight Ivy League Colleges. That's right, he has been invited to join the student body of Brown, Columbia, Cornell, Dartmouth, Harvard, Princeton, the University of Pennsylvania, and Yale.

Along with those heavy-hitting schools, Enin has been admitted into Duke University and some New York State institutions.

Now anybody who has ever applied for application to an upper-echelon university knows those schools don't let just anybody in. No, they're looking for a student body composed of the cream of the crop, the best of the best. According to admittance people at these schools, Enin qualifies as being just that. Academically, he is near the top of his school's scholars; he has taken almost a dozen advanced classes, he volunteers in community activities, he is a shot-putter, sings in his high school's acappella group, and plays the viola.

Yup, Kwasi Enin is a spectacular young man. His credentials would get him into just about anywhere he could ever want to go.

Except one.

Enin isn't good enough to get into heaven. He can send in his application, but if he is relying on his shot-putting, or viola-ing, or advanced classes, he's going to get a rejection notice. If Enin points to his stack of Ivy League admittance letters, he will be told they don't count when it comes to getting into heaven. Nothing does. As the book of Titus reminds us, we are saved, "not because of works done by us in righteousness."

That means the best of the best of humanity and earth's cream of the crop won't make heaven's cut.

No, if you are going to get into heaven, it will not be because you have learned a lot or because you have accomplished many great things. You are going to get to heaven because you know Somebody. More accurately, you will get into heaven because you know and believe in Jesus as your personal Savior from sin.

That's right, heaven is opened when you have been "been justified by His grace." That means, because of Jesus' suffering, sacrifice, crucifixion and resurrection, your sins have been erased, and by the Holy Spirit's power that wonderful truth has been placed into your most grateful heart.

THE PRAYER: Dear Lord, today I join with the hymn-writer who confessed, "By grace I'm saved, grace free and boundless; My soul, believe and doubt it not. Why stagger at this word of promise? Hath Scripture ever falsehood taught? Nay; then this word must true remain; By grace thou, too, shalt heav'n obtain." For this grace given by You I give thanks in Jesus' Name. Amen.

In Christ I remain His servant and yours,

Today's Bible Readings: Judges 7-8 Luke 13:23-35
To Download Devotion MP3 to your computer, right click here and select "Save Link As" or "Save Target As" or "Download Linked File As"