"A Forgiven Conscience"
---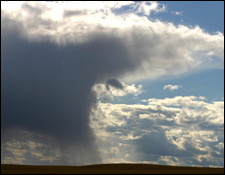 Therefore, since we have been justified by faith, we have peace with God through our Lord Jesus Christ. Romans 5:1
NOTE: Daily Devotioners, please note today's devotion is based on a tragic story. Please review its content before you share it with youngsters and others who may be sensitive to the material. Thank you. Pastor Klaus

While most college kids were on spring break, an 18-year-old freshman from Penn State, Altoona, Pennsylvania, took his own life by jumping from the roof of a hotel.

The police have spent some considerable time trying to reconstruct what went wrong in the life of Marquise Braham. As near as they can tell, Braham was distraught by some of the things which had happened during the hazing of pledges by the members of his school's Phi Sigma Kappa fraternity. Readers know that every year news reports come forward which talk of the dangerous situations that can result when hazing gets out of control.

But Braham's situation is a bit different than most.

His story is different because most suicides are the result of someone who was hazed by others. In this situation it appears that Braham, the fraternity secretary, was the hazer, and he was upset by some of the things he had done.

In short, Braham's tragic, and unnecessary, death is the result of a guilty conscience.

Now I'm not saying he shouldn't have felt guilty. Some of the things which were done to the Phi Sigma Kappa pledges were plain and simple wrong. It is a good sign that Braham felt badly about his hand in those actions. An active conscience which points out our sins is a good thing and a wonderful gift from God.

But a conscience that continues to nag without ever pointing to a solution which can remove that guilt is a dangerous thing. God's will is that the despair of the sinner ought to lead to the hope that is found through the all-atoning blood of the Savior. Yes, Braham did some wrong things, but Scripture plainly says Jesus died to remove the guilt of those sins. Can the Bible be any more plain when it says,

* "If we confess our sins, He is faithful and just to forgive us our sins and to cleanse us from all unrighteousness" (1 John 1:9).

* "There is therefore now no condemnation for those who are in Christ Jesus" (Romans 8:1).

* "Therefore, since we have been justified by faith, we have peace with God through our Lord Jesus Christ" (Romans 5:1).

Now this devotion cannot help Braham. But it can be of assistance to those of you who are burdened by the ongoing guilt of a past or present sin. Be assured: for your repentant heart there is forgiveness of every sin and the gentle instruction of a Savior who says, "Go and sin no more" (see John 8:11).

THE PRAYER: Dear Lord, have mercy upon me, a poor, miserable sinner. Grant me the gift of forgiveness and a conscience which is at peace because my scarlet sins have been made white as snow. In the Savior's Name I ask it. Amen.

In Christ I remain His servant and yours,

Today's Bible Readings: Deuteronomy 20-22 Luke 6:1-26
To Download Devotion MP3 to your computer, right click here and select "Save Link As" or "Save Target As" or "Download Linked File As"