"No Hell"
---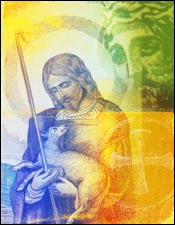 There is therefore now no condemnation for those who are in Christ Jesus. For the law of the Spirit of life has set you free in Christ Jesus from the law of sin and death. Romans 8:1-2
One of the great joys of the Christmas season is the singing of those old and familiar holyday hymns.

Of course, to inexperienced children, those Christmas carols just aren't that familiar. Not so long ago I heard of a little girl who, after Sunday school shared with her mother that "Jesus was a Swede." Mother gently corrected her youngster by reminding her that "the Bible says Jesus was the Son of David, which meant He would have been Jewish."

Her little girl's pouty face said she was pretty sure of her facts. She countered, "Mommy, I'm sure Jesus was Swedish. This morning our teacher taught us the song, "Away in a manger, no crib for a bed, the little Lord Jesus lay down his Swede head."

No, our children just don't know those hymns ... not yet.

That's why this story which comes from a teacher who is living in a small town in the Southeast is so precious. Having rehearsed her second-graders, she felt brave enough to take them caroling. They went to a number of places where the people were homebound. After each place, the children talked about how the older folks had smiled as they sang. The children had never seen such smiles.

The wandering concert ended up in the community's only nursing home.

There, the teacher, with her charges in tow, wandered the hallways and gave a song at the doorway of each resident. Only then did the teacher notice that one of her more enthusiastic singers had rewritten the words to one of the songs.

Where he was supposed to be singing, "Noel, Noel," (Noel meaning Christmas, or Christmastide), he was belting out, for all to hear: "No hell, no hell, born is the King of Israel."

That boy didn't know the correct words, but he absolutely had the right idea. His words, better than the original, explain what Christmas is all about. Because Jesus Christ, God's sinless Son, was born, because He completed all the work that was necessary to forgive our sins and save our souls, to all who believe there is "no hell."

Indeed, because of the Christ, all who believe on Him no longer have to fear sin, death, the devil ... or hell.

THE PRAYER: Dear Lord, with all that is going on around us during this holyday season may we always remember that the Savior was born to rescue us and assure all who believe there is "no hell." In Jesus' Name. Amen.

In Christ I remain His servant and yours,

Today's Bible Readings: Psalms 77-78 Revelation 6
To Download Devotion MP3 to your computer, right click here and select "Save Link As" or "Save Target As" or "Download Linked File As"