"Our Clean Slate"
---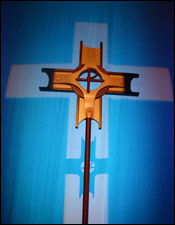 (God said) "Though your sins are like scarlet, they shall be as white as snow; though they are red like crimson, they shall become like wool." Isaiah 1:18b
Oklahoma City's eight-year-old Malachi Peterson is in trouble for many different reasons.

* He is in trouble with his school principal because he picked a fight at school.

* He is in trouble with the girls because the fight he picked was about who got to get the girl.

* He is in trouble with his mother because she thinks he is becoming a bully.

That's an awful lot of trouble for a young man. Thankfully, Peterson is not the subject of this devotion. No, Peterson is off the hook. Instead, we are talking about Peterson's mom. Wishing to nip her son's bullying in the bud, Janie Peterson made her son stand out on a street corner holding a sign which said, "I PICKED A FIGHT BECAUSE I'M A BULLY."

According to Janie Peterson, public reaction to the punishment she gave her boy has been very positive. My own small, private and incredibly unscientific poll says reactions are not universally affirming.

You, my friends, can make your own assessment.

At any rate, the story of Malachi Peterson got me to thinking. What would happen if God punished me the way Janie punished Malachi? I wonder how I would feel if the Lord put me, and you, and everybody in a public place and had us wear a sign that listed our sins.

I'm pretty sure none of us would like it. No, we wouldn't like it a bit. I know nobody would like it because all of us go to great lengths to hide our sins. Robbers wear masks, thieves work under cover of darkness, and white collar criminals hide their misdeeds in a set of doctored books. Most of us just do our best to keep those sins locked away where nobody else can see them.

Like Adam and Eve, we do our best to hide our transgressions from everybody.

Of course, we can't hide those wrongdoings from the Lord. His all-knowingness sees our sin and His justice condemns that sin. Even if we manage to hide our sins from everybody else in the universe, God knows our long list of transgressions.

That's the bad news.

The good news is that, along with seeing and hating our transgression, God continues to love us. So that we helpless souls might be rescued from hell, the Lord sent His Son to Earth to take our place. Throughout His time among us, Jesus kept the Law, refused to fall into temptation, and carried our sins to His cross. Three days later in His glorious resurrection, He showed to anyone who would see that His work had been completed and all who believed on Him were forgiven and saved.

Because of Jesus we have no more sins to write on our card. Because of the Savior we no longer are expelled from heaven. Because of Jesus we are forgiven and saved.

THE PRAYER: Dear Jesus, I give thanks You have erased the card that carried the list of my errors. Because of Your sacrifice I, and the card, are clean. In Your Name I give thanks. Amen.

In Christ I remain His servant and yours,

Today's Bible Readings: Isaiah 17-19 Ephesians 4
To Download Devotion MP3 to your computer, right click here and select "Save Link As" or "Save Target As" or "Download Linked File As"