"Poor at $149.4 Million"
---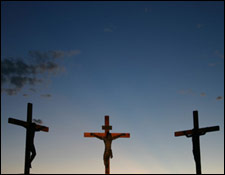 But this I call to mind, and therefore I have hope: the steadfast love of the Lord never ceases; His mercies never come to an end; they are new every morning; great is Your faithfulness. Lamentations 3:21-23
You know, $149.4 million doesn't go as far as it used to.

That's why I wish Paul White of Minnesota good luck as he spends his winnings from this month's giant Powerball jackpot.

I say that because, for a number of reasons, White has me worried.

Certainly there's no problem with him having done a lot of day dreaming on how he would spend the money when he won. (I say "when" because White said he always "knew" he would win.) And even though he won't have his cash for a few weeks, there probably is no great difficulty with him having quit his job.

My worry is centered around White saying, I've always known I was "gonna win the lottery one day ... I've been waiting for this day my entire life." If he wasn't joking or exaggerating when he made those statements, I think his perspective is a sad one.

* It is sad because while the windfall that comes from winning the lottery might be a good thing, it is hardly that which gives purpose or meaning to an individual's life.

* It is sad because there are many Paul Whites out there who "know" they are going to win the lottery, but they never will. They are letting their precious God-given days slip by holding fast to a hope that will never be realized.

* It is sad because Scripture points out a different way, a better way for us to live. In the book of Lamentations it says, "I have hope ... (because) the steadfast love of the Lord never ceases; His mercies never come to an end; they are new every morning."

What a difference in perspective!

When someone has faith in Jesus Christ as his Savior, he knows he is never alone. That means no matter what pains and problems, difficulties and disasters the present day may have brought, he can wake up knowing the Lord is with him. Forgiven by Jesus' blood-bought sacrifice and His glorious resurrection, God's elect begin every day knowing they remain in the Lord's love and will continue to be recipients of His mercy.

All of this means nobody has to spend his entire life waiting for God's bounty. It is already there, and it will be there tomorrow, and the next day, and the next. Because that is so, when an individual puts his head on the pillow, he can forget the disasters of this day and look forward to the next.

So, in one line what is the difference? It is this: while some people wait their entire lives for a remote possibility to become a reality, Christians live each day loved by God.

You don't have to be a prize-winning mathematician to know which person is the richer.

THE PRAYER: Dear Lord, although I don't deserve it, Your mercies are new every morning. May Your love surround me so that I may live every day in thanksgiving for my Savior, who has made each day of my life a blessed day. In Jesus' Name. Amen.

In Christ I remain His servant and yours,

Today's Bible Readings: 1 Chronicles 20-22 1 Corinthians 14:1-20
To Download Devotion MP3 to your computer, right click here and select "Save Link As" or "Save Target As" or "Download Linked File As"