"The Right Conclusions"
---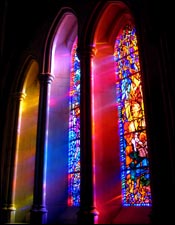 The Spirit Himself bears witness with our spirit that we are children of God, and if children, then heirs -- heirs of God and fellow heirs with Christ, provided we suffer with Him in order that we may also be glorified with Him. For I consider that the sufferings of this present time are not worth comparing with the glory that is to be revealed to us. Romans 8:16-18
For those of you who wonder about such things, yes, this is a true story, and it begins with a pastor who felt the Lord had let him down.

I can understand why.

Here are just some of the things he and his family had endured: he had opened a mission church and then had to shut its doors; the house he was living in had been burglarized; his car had been vandalized; his wife had been told she had cancer, and the insurance company dropped her because it decided the cancer was a "pre-existing condition."

As the preacher considered his situation, he was sure things weren't supposed to work this way.

After all, he thought to himself, I have left a lucrative position to serve the Lord. I, my wife, and my family are absolutely dedicated to being living witnesses of Jesus' love in our community's inner-city. He continued: I am a good man. I have tried to please the Lord with what I say and do. Aren't God's people supposed to be blessed and protected from such tragedies?

Although we would never admit it -- and we might not even know it -- many of us feel the same way.

Like that pastor, we have concluded that good things happen to God's good people and bad, unbelieving people get what they have coming to them. Indeed, that is the way it is, but not always in this life.

As proof of that statement, I put before you ... our Savior ... the only truly good man this world has seen. Still, Jesus was hated and hounded, tempted, tortured and crucified because He wanted to save us. His disciples, dedicated to sharing God's Good News of salvation through the Redeemer's blood, were hated and most were martyred. Moses was regularly rejected and God's prophets were scorned.

Eventually, the pastor in our story came to two interesting conclusions that reshaped his faith.

First, he realized the Lord had never promised His people would experience nothing but good in this life. On the contrary, almost all of the heroes of faith had to endure a great deal of suffering as they followed God's will.

Second, he was led to understand the Lord has promised to be with His people when they suffer, are persecuted, and are in distress. At such times, the Lord not only hears His people's prayers but He answers them by giving them what they ask for, or that which is best for them. As the Lord said to Paul, "My strength is made perfect in your weakness" (see 2 Corinthians 12:9).

Now you may wonder why I share this story. The answer is simple. That pastor is not alone. There are many others in his shoes, and there are many others who need to know God still cares.

THE PRAYER: Dear Lord, may I always know that no matter what may happen in my life, You will always be with me. May I be strong in my faith and give thanks that, because of Jesus' life, death and resurrection You will do what is best for me. In the Savior's Name I ask it. Amen.

In Christ I remain His servant and yours,

Today's Bible Readings: Psalms 73, 85 1 Corinthians 11:17-34
To Download Devotion MP3 to your computer, right click here and select "Save Link As" or "Save Target As" or "Download Linked File As"