"A Very Real Gift"
---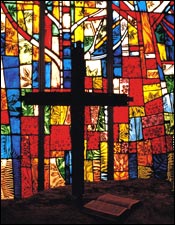 "I am the Good Shepherd. The Good Shepherd lays down His life for the sheep. He who is a hired hand and not a shepherd, who does not own the sheep, sees the wolf coming and leaves the sheep and flees, and the wolf snatches them and scatters them. He flees because he is a hired hand and cares nothing for the sheep." John 10:11-13
Serendipity came to a father this past Christmas.

The serendipity came in the form of a present that had been painstakingly wrapped by his four-and-a-half-year-old daughter. The day she presented her gift, dad held both his little girl and her present on his lap. The conversation went something like this:

"Daddy," she had explained, "this is for you."

Dad shook the gift and began guessing, "It's mighty light. Is it a Volkswagen? Is it a St. Bernard? Is it a bowling ball?"

No, it was none of those things.

Finally, with considerable care, dad opened the gift. Looking inside and finding nothing, he commented, "Julie the box is empty. I love what you did, but I'm confused, there's nothing here."

His daughter offered this assurance: "But, daddy, the box isn't empty. Before I wrapped your present, I blew the box full of kisses and put into it all my love."

Serendipity. The father had been looking for something tangible and wound up finding something quite finer than anything he might have imagined. Today he keeps his daughter's present on his desk at work. When things get rough, when he's frustrated, he knows there is a storehouse of love right there in the box.

I like that story -- the story of a daughter's ongoing love for her father.

Even more I like the story of my Savior, the Good Shepherd, who has shown all of us an unearned, undeserved and unending love. In the passage above we are given the assurance He who has laid down His life for us will never desert us. He will always be there for us.

Always.

To be able to make that statement cost Jesus dearly. He had to leave heaven and come to earth. It meant He had to live among people who didn't appreciate or understand Him. It meant He had to suffer and be murdered by the very folks He had come to rescue.

But once He had laid down His life for His sheep, the risen Redeemer was able to offer us a great many comforts.

What kind of comforts?

Well, for starters, we are comforted by the knowledge our sins are forgiven. We are comforted by the fact we have been adopted into the family of faith. We are comforted by the presence of the Savior, who wishes to hear our prayers, help us through our problems, and stay by our side until -- and past -- the time we are taken home.

In truth, my friends, in Jesus we have been given a love so wonderful it ought never be displayed on a desk; it ought always be carried in our hearts.

THE PRAYER: Dear Lord, for being by our side always, for keeping us and watching over us, You have our most sincere praise and adoration. In Jesus' Name we give it. Amen.

In Christ I remain His servant and yours,

Today's Bible Readings: Psalms 127-129 Acts 18
To Download Devotion MP3 to your computer, right click here and select "Save Link As" or "Save Target As" or "Download Linked File As"