"Sweet Smell"
---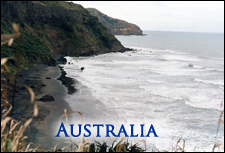 But thanks be to God, who in Christ always leads us in triumphal procession, and through us spreads the fragrance of the knowledge of Him everywhere. For we are the aroma of Christ to God among those who are being saved and among those who are perishing. 2 Corinthians 2:14-15
Dear Brothers and Sisters in Christ:

The salvation story of Jesus Christ reaches around the world. So that the readers of our Daily Devotion may see the power of the Savior on a global scale, we have asked the volunteers of our International Ministry Centers to write our Friday devotions. We pray that the Spirit may touch your day through their words.

In Christ, I remain, His servant and yours,
Kenneth R. Klaus
Speaker Emeritus of The Lutheran Hour



We all know a bad smell when we come across one.

Our nose may twitch once or twice before the full force of the smell hits us. Whether it is rotting food, fertilizer from the garden or the hint a baby needs to be changed, our nose tells us that something unpleasant is nearby.

We may possibly sniff out the smell, tracking it with our noses -- only so the source of the smell can be identified and appropriately extinguished.

Just as our noses recognize bad smells, so they also recognize good smells.

We can usually tell when our favorite meal is being cooked or when a favorite perfume is sprayed or the scents of fresh rain or the seaside, from the smell that wafts to our noses. Unlike bad smells, we enjoy good smells and do not seek to get rid of them. Instead, we enjoy the smell and often follow our noses to find the source of the smell to see if that can bring us further enjoyment.

In 2 Corinthians it talks about Christians being the "aroma of Christ," as they live their lives in the world. For some people our aroma is offensive because they are offended by Jesus and His cross.

For others, our Christian aroma reminds them of Jesus.

The text is clear: God uses us to give off the scent of Christ in our actions and in our lives as He tries to draw people to Him. The aroma of Christ can be far reaching and it varies. (See 2 Corinthians 2:16.)

It can stem from a kind word or action; it can come in a Bible study and worship.

As the Holy Spirit molds us into the likeness of Christ, the aroma of the Savior flows freely from us and into the world around us. When this happens, when people get a whiff of these things in our lives, they wonder where these actions came from.

When they're told that Jesus is the source, the Holy Spirit can use that moment to share the miraculous life, death and resurrection of the Savior with a lost soul and bring him or her from darkness into the Redeemer's marvelous light.

THE PRAYER: Dear Lord, may the way I lead my life be a positive and powerful witness to the grace and forgiveness I have received from Jesus, my Savior. May I be ever appreciative of the salvation His blood has won for me. In His Name I ask it. Amen.

Biography of Author: Today's international devotion was written by Lauren Paschke, who is associated with Lutheran Hour Ministries in Australia. Down under, LHM works with its ministry partner, Lutheran Media Ministry (LMM), which itself is an outreach mission and ministry of the Lutheran Church of Australia. For 65 years LMM has broadcast the Gospel through radio, television and the Internet to the citizens in this country of 23 million people.


To learn more about our International Ministries, click here or visit www.lhmint.org.

In Christ I remain His servant and yours,

Today's Bible Readings: Job 30-31 Matthew 13:31-58
To Download Devotion MP3 to your computer, right click here and select "Save Link As" or "Save Target As" or "Download Linked File As"