"Gathered Together"
---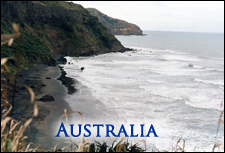 (Jesus said) "For where two or three are gathered together in My Name, there am I in the midst of them." Matthew 18:20
Dear Brothers and Sisters in Christ:

The salvation story of Jesus Christ reaches around the world. So that the readers of our Daily Devotion may see the power of the Savior on a global scale, we have asked the volunteers of our International Ministry Centers to write our Friday devotions. We pray that the Spirit may touch your day through their words.

In Christ, I remain, His servant and yours,
Kenneth R. Klaus
Speaker Emeritus of The Lutheran Hour



The first youth camps I ever went to had about 130 young people. It was such a buzz to be surrounded by so many people who loved God and wanted to learn about His purpose for their lives. Since then, I have been to more youth camps than I can count. All have been amazing in their own particular way, but one stands out in my mind.

This camp was planned for old people (18 years and up!). We were going to a place where there was snow. There is very little snow in Australia, and I'd only seen it about twice before, which meant I was really excited. I was in fairly regular contact with the girl coordinating it, so when she said we only had about eight people coming and it might have to be cancelled, I was devastated. I mean, I was pumped about seeing snow and really pumped about hanging out with some of my awesome Christian friends. But, at the same time, I had this thought in my head that it couldn't be a good camp with fewer than 40 people.

The campers went ahead. I decided I liked snow but I didn't like skiing. I had some of the most amazing conversations and encouragements I'd ever had and there were only 11 people there! I had to review some of my ideas. God knew that so He brought this passage from the Gospel of Matthew to my attention: "For where two or three are gathered together in My Name, there am I in the midst of them."

The original text tells us that we don't do the gathering together, God does. Where He has gathered us under His Name, He is there! When the Lord gathers you in His Name at places like church, youth group, Bible study groups, your family, and even camps with less than 40 people, He is there! He is there directing you and blessing you. And it doesn't matter if there are 200 or two!

Isn't that awesome?

THE PRAYER: Ever-present Lord, thank You for gathering us into Your family as children of the same Heavenly Father and workers together in His Kingdom! May our lives be blessed and a blessing to others as we reflect the Savior. In Jesus' Name. Amen.

Biography of Author: Today's international devotion was written by Rachel Richter. Richter is a 23-year-old youth worker at Endeavour College in Adelaide, South Australia. She is also studying at Australian Lutheran College. Richter is passionate about Jesus, young people and helping them to discover the gifts God has given them. Her devotions are based on her experiences with youth and school camps.


To learn more about our International Ministries, click here or visit www.lhmint.org.

In Christ I remain His servant and yours,

Today's Bible Readings: Ezekiel 42-44 1 John 1
To Download Devotion MP3 to your computer, right click here and select "Save Link As" or "Save Target As" or "Download Linked File As"