"Fair Warning"
---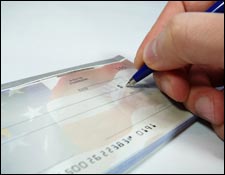 Him we proclaim, warning everyone and teaching everyone with all wisdom, that we may present everyone mature in Christ. Colossians 1:28
Dena Christoffersen is a normal 13-year-old girl who lives in Cheyenne, Wyoming.

When I say she is normal, I mean Christoffersen is social, and she uses her cell phone to stay in contact with her friends, which are many. She faithfully, regularly -- almost religiously -- "texted" them. You know about texting, don't you? Texting is where you take about a half hour to type into your phone a message that would take ten seconds to speak. (Please don't write me and tell me how fast you can text and the advantages of the service. I'm just having some fun here.)

As I said, Christoffersen is social -- so social that her phone sent or received about 20,000 text messages in one month. The only difficulty is this: her parents don't have texting on their phone plan. Her dad, Gregg, was surprised, really, truly surprised when he opened his phone bill and it read: $4,750.

Christoffersen's dad is sure it won't happen again. The reason he's so sure is this: he destroyed his daughter's phone almost immediately after he got a good gander at the bill.

He ought to consider himself lucky. Last year one person racked up a bill of $68,505. While the amounts I've mentioned are extraordinary, having an overage is not. Each year the FCC gets tens of thousands of complaints from people who feel they've been taken advantage of.

If you are one of those people who have gone over your designated cell phone minutes, I've got good news for you. The major carriers have agreed to warn their customers when they're about to go over their plan's pre-arranged number of minutes.

Such a warning would be, I think, a good thing.

And so is the warning that Paul wrote about to the church in the book of Colossians. You see, Paul considered himself a man who had been entrusted with sharing the Lord's warning -- and His invitation.

The warning was telling people they were sinners and if they stayed in their sin they would be lost.

The invitation was that their debt had been eliminated by the Savior. Now all who believe in Him as their Redeemer receive forgiveness and eternal life.

The church is still extending the warning and the invitation from the Lord. Why? Because when Jesus comes again we want everyone -- because of Jesus -- to be declared debt free from sin.

THE PRAYER: Dear Lord, my sins have accumulated a debt I cannot begin to pay. That Your Son has taken that debt and eliminated it upon Calvary's cross is the greatest joy of life. Now may I, my family and my church share Your warning and invitation with others, so they may also know. This I pray in my Savior's Name. Amen.

In Christ I remain His servant and yours,

Today's Bible Readings: Ezekiel 18-19 2 Timothy 3
To Download Devotion MP3 to your computer, right click here and select "Save Link As" or "Save Target As" or "Download Linked File As"