"Let's See the Hands"
---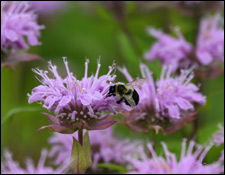 (Jesus said) "What father among you, if his son asks for a fish, will instead of a fish give him a serpent; or if he asks for an egg, will give him a scorpion? If you then, who are evil, know how to give good gifts to your children, how much more will the Heavenly Father give the Holy Spirit to those who ask him!" Luke 11:11-13
The questions Jesus asked in the passage above are known as rhetorical questions.

My high school English professor told me a rhetorical question was one which had an answer that was so obvious it didn't need a reply. If you reread that passage, you will almost automatically find yourself saying, "No father would ever do such a thing. Not never. No how."

This past week I saw a video that made me think Jesus' questions weren't as rhetorical as I had once thought.

The video was of a fellow attending a Dodgers-Marlins game. A fly ball was hit in his direction and he tried to catch it. Now there's nothing wrong with that. The wrong part comes when you realize he was holding his little girl. In order to catch the ball, he dropped his daughter.

And I do mean he dropped her.

To make a long story short, his wife gave him a dirty look; his daughter gave him a shot in the chest, and he didn't get the ball.

Now I only share this story because I think there is more than this one fellow dropping his child ... not literally, maybe, but figuratively.

In recent years I've heard numerous parents say things like "I had religion forced down my throat when I was young. I'm not going to do that to my kids." Or, "When my child is old enough, I'm going to let him decide what religion, if any, he wants."

To many those words sound both modern and sophisticated; to me it sounds like some parents are dropping their children. Think about it. Are those parents consistent? Do they say things like "My parents forced me to read, spell, learn math, and I'm not going to do that to my children?" Do they say, "When my child is old enough, I'm going to let him decide if he wants to have manners, not wear diapers, etc?" Of course not, they teach their children the important things.

Indeed, the Lord made parents so they could show their children the way. Moms and dads were designed to be the loving Savior's first, foremost and best witnesses to His little ones -- witnesses to Jesus. That's what a parent will be; unless, of course, they drop the ball (child).

THE PRAYER: Dear Lord, today I pray for parents, especially Christian parents. You have entrusted them with a wonderful -- a great opportunity. May every parent do his or her best to reflect the love they have received from Jesus. This I pray in my Savior's Name. Amen.
In Christ I remain His servant and yours,

Today's Bible Readings: Jeremiah 20, 35-36 Colossians 4
To Download Devotion MP3 to your computer, right click here and select "Save Link As" or "Save Target As" or "Download Linked File As"