"Revised Unstandard Version"
---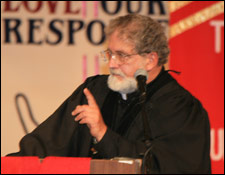 (Jesus said) "Whoever believes and is baptized will be saved, but whoever does not believe will be condemned." Mark 16:16
For want of a better term, I have labeled this week "Circus Week." In the last ten days Daily Devotion readers have inundated me with ideas they think would make a good devotion. I agree. But why call it Circus Week? The title comes from a layperson who said, "In many places the church isn't Christ's Church ... it is a circus." Next week the devotions return to our regular style. Pastor Klaus

To see the opening act of Circus Week you need to go to Exodus Church in central Holland. There the Reverend Klaas Hendrikse says

• "Make the most of life on earth, because it will probably be the only one you get."

• "God is not a being at all ... it's a word for experience or human experience."

• he sees the Bible's account of Jesus' life as a mythological story about a man who may never have existed.

When I heard of Pastor Hendrikse, I was shocked. That shock turned to great sadness when I read that a study by the Free University of Amsterdam found one in six clergy in Holland's official church, along with six other smaller denominations, was either agnostic or atheist.

The regular pastor at Exodus Church says, "I think 'Son of God' is a kind of title. I don't think he was a god or a half-god. I think he was a man, but he was a special man because he was very good in living from out of love, from out of the spirit of God he found inside himself."

Thankfully, Holland still has voices of reason, voices of faith. One layman said, "When we get people into church by throwing Jesus Christ out of the church, then we lose the core of Christianity."

How right he is.

Scripture is clear: it is faith in Jesus Christ, true Man and true God, which saves. Only through Holy Spirit-given confidence in the Redeemer who lived, suffered, died and rose for us is salvation given.

And while there may be many false prophets who would rewrite Scripture and try to redirect the faith of the unsuspecting, Scripture has the final word and is the ultimate authority, which leads us to our threefold prayer:

First, let us give thanks for those pastors and teachers who are faithful in the proclamation of the Christ. May they -- and the Law-Gospel messages they share -- accomplish all the Holy Spirit wants.

Second, let us pray for those whose faith is fragile: for the young, the uneducated, the newly converted. Let us ask the Lord to shut their ears to preaching that is faithless.

Finally, let us pray that these wolves who disguise themselves in the robes of pastors may be called to repentance and salvation. May they realize there is a higher authority than themselves.

THE PRAYER: Dear Lord, for those who proclaim the Word faithfully, You have my thanks. May the Holy Spirit use them and us to successfully share the story of salvation with the lost. Further, may those who think they have the authority to override Your holy Word see the error of their ways and return to the truth of Christ. Finally, dear Lord, protect and preserve those who are uneducated and gullible, who search only for that which seems exciting. May they know and believe Jesus is the way, the truth, and the only source of forgiveness and eternal life. This I pray in my Savior's Name. Amen.
In Christ I remain His servant and yours,

Today's Bible Readings: Hosea 12-14 Romans 16
To Download Devotion MP3 to your computer, right click here and select "Save Link As" or "Save Target As" or "Download Linked File As"