"Troubles? You Think You've Got ..."
---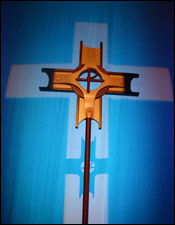 Surely He has borne our griefs and carried our sorrows; yet we esteemed Him stricken, smitten by God, and afflicted. But He was wounded for our transgressions; He was crushed for our iniquities; upon Him was the chastisement that brought us peace. Isaiah 53: 4-5
To a person, the readers of the Daily Devotions are hard and uncomplaining workers.

Which is why they may be amused when I tell them of the 12-year-old boy who found a summer job delivering papers. With a new and early-houred schedule taking its toll, he was glad to tell everyone about the crosses he was carrying.

Wearing a martyr's robe, he would sadly sigh, "I get up at 5 a.m. and while I'm getting dressed, mom makes me breakfast. Then, just as I'm leaving for work, dad gets up. Mom fixes him breakfast too. When I get home, mom usually has lunch ready and on the table, but I'm so tired by then, I can hardly eat. Work is so exhausting."

Finally, one listener asked, "And how about your mom, does she have a job?" The question was dismissed with the lad saying, "Naw, mom just cleans the house, runs to the store, takes care of the other kids, washes clothes and does some ironing." And when he was asked, "Does mom get paid?" he shot back, "Did 'mom get paid?' Of course not, she's got no job. She don't do no work."

While that story would be great for Mother's Day, I'd prefer to take it somewhere else.

You see, all too often we Christians say things like "Jesus suffered and died for me." Unfortunately, like the little boy describing his mother's activities, we don't always do much thinking about what those words mean.

Jesus lived, suffered and died for me.

Jesus left heaven where He was the center of attention to be born in Bethlehem, where a king tried to kill Him. He left heaven where He was praised by legions of angels, to come to earth where He was hated, despised and misunderstood. He left heaven where there were no tears, to come to earth so He might be beaten, spit upon, laughed at, persecuted, whipped and nailed to a cross.

Jesus lived, suffered and died for me ...

and one other thing -- He also rose for me.

So that I might be forgiven He carried my sins and, then, having finished all which had been asked of Him, He rose on the third day.

Jesus, lived, suffered and died for me -- for all of which it is my duty to thank and praise to serve and obey Him.

This is most certainly true.

THE PRAYER: Dear Lord, send Your Holy Spirit upon me so I may begin to understand and appreciate what Jesus has done for me. Then, may I be motivated to live a life of thanksgiving. This I ask in the Savior's Name. Amen.

In Christ I remain His servant and yours,

Today's Bible Readings: Isaiah 53-55 Romans 10
To Download Devotion MP3 to your computer, right click here and select "Save Link As" or "Save Target As" or "Download Linked File As"