"Mighty Waters"
---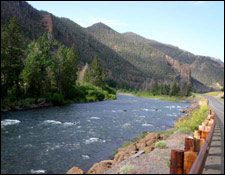 Mightier than the thunder of the great waters, mightier than the breakers of the sea -- the LORD on high is mighty. Psalm 93:4
Many of our Daily Devotion readers are acquainted with the name, Mick Onnen, president of the International Lutheran Laymen's League and that organization's public persona, Lutheran Hour Ministries. Since his presidency, Mick has sent out a weekly prayer list to our organization's leaders. Recently that list was accompanied by the devotion, which follows. Presented with only the smallest of changes, I share it because of its value and because I wanted you to know the kind of leaders our organization has.
Pastor Ken Klaus

Last week, my extended family vacationed in the Colorado Rockies and we enjoyed a new experience.

We older ones in the crowd rafted a stretch of the Colorado River which was somewhat swollen from the heavy snowmelt.

It was a bit turbulent. Even so, for a man who originates from a state appropriately named "Flat Waters" by the Native Americans (Nebraska), it was fun and exhilarating.

Our kids, on the other hand, rafted the swollen and very challenging Clear Creek, west of Denver. It is a stream with fast-moving white water, treacherous rocks and whirlpools. I offered a lot of prayers that day -- not for our group -- but for the kids.

Although guides are present on the rafts trips, swollen rivers can be unpredictable and dangerous. I was glad when we got the call that the kids had finished the ride and were on their way home.

It wasn't until they arrived at our cabin that we learned my daughter-in-law had twice been thrown out of the raft ... along with the guide. (They told me the guide had only been dunked one time in the last five years). By God's grace, they had been plucked out of the water before a dangerous whirlpool engulfed them or they were smacked against a rock.

My son's comment after the ride was "Now I can say that I've done it, but I don't have a desire to do it again."

For that comment I said another prayer of thanks!

Thinking upon the adventure, I've concluded mountain streams can pack a lot of power as they tumble and roar down the mountainside. Those who have experienced the force of floodwaters can attest to the strength of water.

But as powerful as is a mighty river, the LORD on high is mightier.

It is a comfort to know that at all times, even when the waters surround and engulf us (or the problems of the world weigh heavy upon us), the LORD is in control for He is mightier than all the force of the sea. Truly, "... God is our refuge and strength, an ever-present help in trouble" (Psalm 46:1b).

For that, I say a little prayer of thanks.

THE PRAYER: Dear Lord, I give thanks for Your power and strength. For bringing us through dangerous waters, for using that power in the Person of Your Son to defeat sin, death, and devil and win my salvation, I praise Your Name. In Jesus' Name I praise You. Amen.

In Christ I remain His servant and yours,

Today's Bible Readings: 1 Chronicles 13-15 1 Corinthians 9
To Download Devotion MP3 to your computer, right click here and select "Save Link As" or "Save Target As" or "Download Linked File As"