"If God Is For Us"
---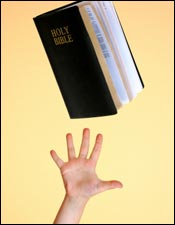 Thy Word is a lamp unto my feet, and a light unto my path. Psalm 119:105
The topic for today's Daily Devotion was suggested by Greg Waltz, good friend and Lutheran Hour Ministries lay leader. We appreciate his sharing. Pastor Klaus

The Psalmist knew what he was talking about when he penned that sentence about God's Word being a light to our paths. Those of us who have read and been brought to a place of trust in the Scriptures appreciate the truth they are and hold.

Our feelings are not shared by everyone.

For example, California's Palm Desert High School came upon a great way of raising money for their institution. They decided to sell individual bricks for a pathway. Each brick would be inscribed with the donor's choice of name, memorial, sentence, any kind of thought.

Both organizations and individuals responded positively to the idea. Indeed, $45,000 was pledged to the bricked walkway.

Sadly, everything came to a grinding halt when two women contributed money and asked to have Bible verses inscribed on their bricks. The passages they referenced were Psalm 68:34a "Tell everyone about Gods power ..."; Luke 16:13a: "No one can serve two masters ..."; 2 Corinthians 5:17b "... The old life is gone, a new one has begun"; Ephesians 4:32a: "Be kind to each other, forgive one another ..." and Romans 8:31b "... If God is for us, who can be against us?"

Apparently the passages were unacceptable.

The passages were so unacceptable that the school board decided to scrap the entire project and refund everybody's money.

Amazingly other religious and philosophical quotes were acceptable, but these passages from the Bible were not.

Which means, my friends, everybody loses.

And that's terribly sad. It's sad because of the prejudice involved; it's sad because of a misunderstanding of the law; it's sad because God's Word really does illuminate the pathways of our lives. In Holy Writ we find the story of salvation which comes to us through our loving Savior. His suffering and sacrifice for sinful human beings moves all who believe from darkness to light and from hell to heaven.

That's something those two women understood, and it's something the school board didn't.

Nor would they probably understand the statement inspired by God in John 3:19a. There it says, "This is the verdict: Light has come into the world, but men loved darkness instead of light ...."

THE PRAYER: Dear Lord, it is amazing for Christians to see the lengths to which the world will go to keep people from hearing anything You have said. We pray the Holy Spirit may touch unbelieving hearts so the pathway to Your truth may be illuminated. This we pray in Jesus' Name. Amen.

In Christ I remain His servant and yours,

Today's Bible Readings: Ecclesiastes 7-9 Acts 10:1-23
To Download Devotion MP3 to your computer, right click here and select "Save Link As" or "Save Target As" or "Download Linked File As"