"Body Moving"
---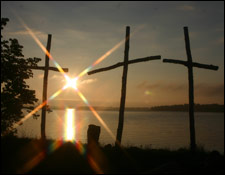 They said to her, "Woman, why are you weeping?" She said to them, "They have taken away my Lord, and I do not know where they have laid Him." Having said this, she turned around and saw Jesus standing, but she did not know that it was Jesus. John 20:13-14
Moving bodies.

I knew that Matthew Brady, the great Civil War photographer, occasionally moved a body to give his battlefield pictures a better composition. But other than that, I never heard of anyone trying to move a battlefield corpse for the purpose of fulfilling some personal agenda.

That is until now.

The U.S. intelligence agencies are saying Libyan commander Muammar Gaddafi has been taking bodies, which his soldiers have killed, and placing them in locations where coalition air strikes have done some damage.

The Libyan leader thinks any bodies found in those locations will redirect blame and public outrage from him and put it on us.

Moving bodies.

Almost 20 centuries ago, a woman named Mary wept outside the tomb of a man named Jesus. She cried because she thought His body -- His beaten, scourged and crucified body -- had been moved.

That someone would do such a cold and callous thing caused her great pain. That's why, when she sort of saw a man whom she thought was the tomb's gardener, she asked where he had placed the body. It was her desire and wish to make things right.

Mary didn't have to worry.

It's true, Jesus' body had been moved, but it wasn't by the hand of a stranger. Jesus' body was moved because three days after He had been crucified, God's Son rose. It was a unique, eternity-changing moment in history. It was a moment which assures all who are moved to look that Jesus has conquered sin, the devil and our greatest enemy: death.

Yes, Jesus' body was moved but by its own power. And now, because Jesus lives, all who are given faith in Him know they too will live forever. Death no longer has a hold on us; the grave no longer has a sting.

All of this means if we shed tears, unlike Mary, our tears can be tears of joy.

THE PRAYER: Dear Lord Jesus, according to Your promise, You rose from the dead. Now I pray You will send the Holy Spirit upon me so that every day my faith in Your victory might deepen and produce a life of thankful actions. In Your Name I give thanks. Amen.

In Christ I remain His servant and yours,

Today's Bible Readings: Joshua 1-3 Luke 9:1-17
To Download Devotion MP3 to your computer, right click here and select "Save Link As" or "Save Target As" or "Download Linked File As"