"Sudden Destruction"
---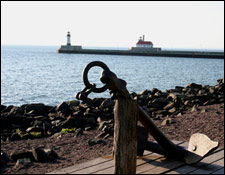 Do not forsake me, O Lord! O my God, be not far from me! Make haste to help me, O Lord, my salvation! Psalm 38:21-22
For some time now the world has been watching the great nation of Japan as she tried to dig her way out of the rubble caused by catastrophic earthquakes. You've seen how the news media has been preoccupied with that story and, as a result, other stories -- so-called smaller stories -- have not received much in the way of attention.

One of those stories is that of seven-year-old Oliver Prescott.

A week or so ago, Prescott was playing in the schoolyard across the street from his home ... the home where his mother was shoveling snow. When his mom looked up, he was gone. Knowing her son never left the park, mom quickly enlisted her sister and they began knocking on doors.

Oliver Prescott was nowhere to be found.

The only clue they had came from a neighbor who remembered the snow plow had cleared the school playground right about the time Prescott had disappeared.

With that information, two other neighbors -- brothers -- grabbed their shovels and started digging into the drifts piled up by the snowplow. After 45 minutes of furious shoveling, the men spotted the boy's hat, then his boot. The unconscious lad, the child who had been buried for three hours, was dragged from the snowdrift.

Now there's no point in going on with this devotion until I share that Oliver is doing just fine. He was revived, taken to the hospital and released later that day.

With that out of the way, it occurs to me that life has a way of blindsiding us. It may be an earthquake which devastates a country or a snowplow which unwittingly buries a little boy, life is full of unpleasant, unexpected and unwanted surprises.

They're surprises which ought to remind us that we should join our voices to that of King David who prayed, "Lord, don't forsake me ... don't get too far away from me ... make haste to help me ... because You are the God of my salvation."

David had discovered something which the Lord knew all along: we need Him. It's a fact we should not forget.

Now I don't know what surprise may be headed your way: Snowplow? Earthquake? Possibly something in between? Whatever that surprise might be, I encourage you to look to the Lord. He who gave His Son to save your soul will be there to provide help and assistance in this new and surprising situation.

THE PRAYER: Dear Lord, today my prayer is that of David: "Do not forsake me, O Lord! O my God, be not far from me! Make haste to help me, O Lord of my salvation." In Jesus' Name. Amen.

In Christ I remain His servant and yours,

Today's Bible Readings: Deuteronomy 1-2 Luke 2:1-24
To Download Devotion MP3 to your computer, right click here and select "Save Link As" or "Save Target As" or "Download Linked File As"