"A Roaring Tiger"
---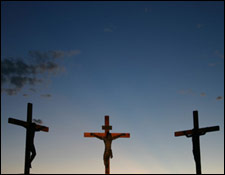 Submit yourselves therefore to God. Resist the devil, and he will flee from you. James 4:7
One of the movie clichés which always drives us crazy at the Klaus Haus takes place when the hero of a movie is being beaten and his girlfriend remains standing, oh-so-helplessly, along the sidelines.

Apparently, the wife of Tambun Gediu hasn't seen these movies.

Gediu lives in a jungle region of northern Malaysia. A few weeks ago, he set out on a Saturday to hunt squirrels near his home. Gediu wasn't the only one who was hunting.

Just as he made his way into the jungle, a tiger pounced on him. Gediu tried to climb a tree, but the tiger dragged him down. He hit the tiger in the face, but the tiger kept mauling him.

Back in their home, Gediu's 55-year-old wife, Han Besau, heard her husband's screams of terror. Now, if this had been a movie, she would have confined her help to standing there and screaming.

But this wasn't a movie and Han Besau isn't an actress. Not ready to see her husband become brunch for a tiger, she flew into action and clobbered that tiger.

And what do you think she used to clobber that beastie? Did she use a pitchfork? A rifle? A large club? A machete? Nope, Han Besau attacked that tiger with a soup spoon. True, it was a large soup spoon, but it was still a soup spoon. She clobbered that cat on the head, and he beat a hasty retreat.

Now all of us must admit that going up against a tiger armed only with a large soup spoon is a pretty brave thing to do. Still, such bravery pales in comparison with the courage shown by the Christ when He entered this world to save humanity.

Consider the enemies He was confronting. There was sin which had been part of every human being since the fall; there was the devil whose seductive temptations had managed to lead all of humanity astray and, of course, there was death which had, except for those rare cases where God had directly intervened, managed to bring down the strongest and best of us.

One Man against sin, death and devil. It should have been a lopsided contest. It should have been, but Jesus emerged as the Conqueror. His perfect life stood successfully against sin. His determination to save us defeated the devil, and His dedication to following the Father's will was more than a match for death.

Now, because of what Jesus has done, as St. Paul says in Romans 8:37b, "... we are more than conquerors through Him who loved us."

THE PRAYER: Dear Lord Jesus, for doing all that was necessary to bring about our salvation, I give thanks. May I always be grateful for Your sacrifice. This I pray in Your Name. Amen.


In Christ I remain His servant and yours,

Today's Bible Readings: Leviticus 25 Mark 11:1-18
To Download Devotion MP3 to your computer, right click here and select "Save Link As" or "Save Target As" or "Download Linked File As"