"Cushion Of The Sea"
---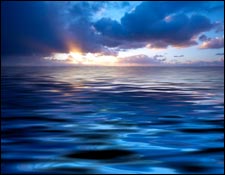 He stilled the storm to a whisper; the waves of the sea were hushed. Psalm 107:29
The weatherman tells me there are some storms hitting parts of our country.

It won't be the first time; it won't be the last. Even so, that remark on our local news reminded me of another storm that took place several years ago.

A submarine had just returned from a rather long, very secret mission. When the captain of the sub came ashore, he was asked, "Did you suffer damage in the storm?" The officer was surprised at the silliness of the question. He shot back, "Man, don't you know because of where we travel we don't even know if there is a storm?"

It was true. That submarine had been traveling so far beneath the sea's surface it had reached the area known as "the cushion of the sea." At that depth the waters are never stirred by what is happening on the surface.

Every person who lives in this sinful world has seen some kind of storm in his or her life.

It may be a major storm like cancer or family problems. It may be a minor whipping of the waves caused by a sore tooth. Whatever your storm, no matter how much you are being rocked, let me tell you there is a place where you can be protected.

The Father who has sent His Son to live, suffer, die and rise has promised to keep believers safe -- so safe the waves of life can have no lasting or permanent effect.

Yes, I know it seems you are being rocked and buffeted, but when all is said and done the Lord will bring you through unscathed.

That's because the Lord is always ready to help. Indeed, He is helping -- helping and holding on to you, because you, my friend, never know when that next storm will hit.


From a devotion originally written for "By the Way"



THE PRAYER: Heavenly Father, grant me the grace and faith to bring my problems and concerns to You. Further, let me have the confidence to know You can still the storms of our lives and bring us safely through. In Jesus, my Savior's Name, I ask it. Amen.

In Christ I remain His servant and yours,

Today's Bible Readings: Leviticus 19-20 Mark 9:30-50
To Download Devotion MP3 to your computer, right click here and select "Save Link As" or "Save Target As" or "Download Linked File As"