"Relative Value"
---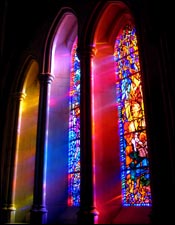 Every good gift and every perfect gift is from above, coming down from the Father of lights with whom there is no variation or shadow due to change. James 1:17
Yongle. That was the name of China's emperor.

Yongle lived in the early 1400s and his craftsmen produced some beautiful and functional pieces of pottery.

Recently, a 79-year-old man, an unnamed man who had retired from a Cadbury chocolate factory, carried a cardboard box into Duke's -- a Dorchester, England, auction house. Inside the box was a vase, an 11.5-inch-tall vase known as a moonflask, a vase that had been made by Yongle's artisans.

The folks at Duke's who evaluate such things went, "Wow!" The people who buy such things -- the very rich people who buy such things went -- "Wow!" That was their reaction because this vase, which has survived for almost 600 years, is almost perfect in its condition.

This means when it is auctioned in May the vase ought to bring in somewhere around $1.6 million. And although I don't know the retirement needs of this ex-Cadbury-chocolate-factory worker, I'd be willing to go out on the limb and say $1.6 million ought to help.

Okay, now let's see the hands of those folks who are saying, "I wish, just once, I wish something like that would happen to me. Just once I would like something that good to be dropped into my lap."

Forgive me for saying so, but such a thing has happened to us.

James wrote, "Every good and perfect gift is from above." He knew what he was talking about, as did the Bethlehem angels who spoke about the best gift, the most perfect gift this sinful world has ever seen.

How did Luke record that wonderful message from above? "And the angel said to them, 'Fear not, for behold, I bring you good news of a great joy that will be for all the people. For unto you is born this day in the city of David a Savior, who is Christ the Lord'" (Luke 2:9-11).

Think for a moment what those words mean and what riches they share. Because of Jesus no longer do we have to be afraid of what is going to happen to us or our loved ones when we breathe our last.

Because of the Savior who has been given to us no longer are we alone; no longer are we left without hope; no longer can our sins condemn us.

Because of the Savior who was born, lived, died and rose again, we are rich. We have, quite unworthily, become the recipients of riches we did not earn and a Redeemer whom we did not deserve.

And when we see this gift, this good and perfect gift clearly with appreciative hearts, we, too, will say, "Wow! What wonderful things God has done!"

THE PRAYER: Dear Father, You are the giver of every good and perfect gift. Looking at my sinfulness may I be proportionately appreciative of Your great grace. This I pray in the Name of Jesus who is the greatest Gift of all. Amen.

In Christ I remain His servant and yours,

Today's Bible Readings: Psalms 90 Leviticus 1-2 Mark 5:1-20
To Download Devotion MP3 to your computer, right click here and select "Save Link As" or "Save Target As" or "Download Linked File As"