"Eager To Worship"
---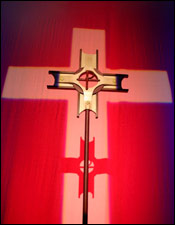 I was glad when they said unto me; Let us go into the house of the Lord. Psalm122: 1
The topic for today's devotion was suggested to us by Mr. Ian Adnams, director of Communications for Lutheran Church-Canada.

In Psalm 122, King David said he was glad to be invited to go into the Lord's house.

In Germany, there is a couple that doesn't share his sentiment. Two British senior citizens were traveling in southern Germany, near the Austrian border. Using a global positioning system (GPS), they had managed to conquer the driving-on-the-wrong side-of-the-road difficulty, which can prove to be most bothersome.

Indeed, everything was going fine and the two were quite relaxed when their GPS told them to make a right turn.

Dutifully, and without looking, the two made the turn. Sadly, the GPS had been wrong; the road didn't turn to the right. The end result was the two drove into the side of a church. They ended up totaling the car, spending the night in the hospital, damaging the church's foundation and paying about 25,000 euros to make the necessary repairs.

Now, there's no question about it. It is a good thing to go into the Lord's house. On the other hand, it's a bad and unwise thing to put your complete trust in anyone other than our gracious God, even if it is a GPS.

You see, only the Heavenly Father has proven to be worthy of our trust.

· Only He sent His Son to earth to be our Substitute.

· Only He has loved us so much that all who believe on the crucified and risen Savior are protected from the forces of darkness.

It's a bad idea because, when you don't trust the Lord, you never know where you might end up.

So, this week, when the Holy Spirit encourages you to go to church, please try to go when the rest of the congregation is present.

They'll appreciate your coming; you'll be touched by the salvation story of the Savior's life, death and resurrection, and the world will see you follow your God and not a GPS.

THE PRAYER: Dear Lord, there are many voices who are telling me where I should go and what I should do. May I pay attention to You, the One who loves me most. Then may I bear witness to Jesus' gift of salvation by going with gladness into the house of the Lord. In His Name we ask it. Amen.

In Christ I remain His servant and yours,

Today's Bible Readings: Exodus 1-3 Matthew 24:1-28
To Download Devotion MP3 to your computer, right click here and select "Save Link As" or "Save Target As" or "Download Linked File As"