"For My Name"
---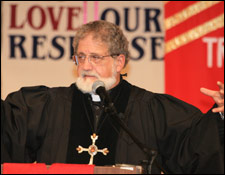 (Jesus said) "And you will be hated by all for My Name's sake. But the one who endures to the end will be saved." Mark 13:13
Pope Benedict XVI and I don't always agree.

Even so, we come together in asking Pakistan to roll back its laws on blasphemy. Boiling them down, those laws say a person can be executed for insulting the Prophet Muhammad.

Those laws are not likely to be rolled back.

One man, Pakistani Governor Salman Taseer wanted to change those laws. Mr. Taseer's bodyguard shot and killed him.

Rather than being condemned for what he did, the bodyguard has, in some circles, been hailed as a hero. When he first appeared in court, he was literally showered with rose petals by his supporters. Among those supporters were some Pakistani lawyers.

I guess stoning is one way of making sure people don't disagree with you.

The Christian faith proposes another way. Writing to the church in Thessalonica St. Paul encouraged, "As for you, brothers, do not grow weary in doing good. If anyone does not obey what we say in this letter, take note of that person, and have nothing to do with him, that he may be ashamed. Do not regard him as an enemy, but warn him as a brother" (2 Thessalonians 3:13-15).

In short, don't listen to what a heretic says. Don't go along with him, but speak to him as a brother who is wrong.

You will note St. Paul says nothing about stoning. Nor did Peter, James or John. Maybe that's because Jesus, the Prince of Peace, was far more concerned about saving people than He was about stoning them.

As Christians we rejoice that Jesus came into this world to free us from sin, to liberate us from Satan and death. Because His work in Bethlehem to His borrowed tomb has been successful we -- His forgiven family -- are free to invite others to join us in worshipping Him who is good news of great joy.

This is why St. Paul writes, "For you were called to freedom, brothers. Only do not use your freedom as an opportunity for the flesh, but through love serve one another. For the whole Law is fulfilled in one word: You shall love your neighbor as yourself. But if you bite and devour one another, watch out that you are not consumed by one another" (Galatians 5:13-15).

THE PRAYER: Dear Lord Jesus, for being the Savior who frees and forgives rather than frightens I offer my thanks. May I be found faithful to the magnificent wonder of what You have done. In Your Name. Amen.


In Christ I remain His servant and yours,

Today's Bible Readings: Genesis 36-38 Matthew 21:1-22
To Download Devotion MP3 to your computer, right click here and select "Save Link As" or "Save Target As" or "Download Linked File As"